We currently subscribe to two platforms for digital books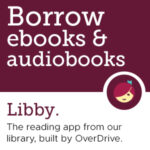 1. Libby by Overdrive
We are a member of OMNI (Online Media of Northern Illinois)
Download e-books and audiobooks for free through the Libby app.
What is Libby? Libby is a free reading app created by OverDrive. It is a very user-friendly app and used for borrowing digital books and audiobooks from the library's OverDrive collection. 
Libby is compatible with Android, Amazon & iOS (Apple) mobile devices such as smartphones, tablets and computers.
Instructions:
---
2. Boundless by Baker & Taylor
Download e-books and audiobooks for free through Boundless.
Boundless is a part of the eRead Illinois Program.
Boundless is compatible with:
Android & Apple smartphones
Amazon Kindle Fire, Fire HD, and HDX device tablets
iPads running iOS 7 software and later
Windows Vista, 7, 8, and 10
Boundless makes it easy for the whole family to get involved in reading. Once you download the app or use the web version, you can create user profiles within your account. Sign up all members of your family with teen and kid friendly experiences!
Check out the Boundless Help Site for any questions, extra training, and aid in navigating the Boundless App.
More help information:
---
Inkie.org Library
Check out e-Books from Inkie.org Library's platform which exclusively features content by Illinois authors, creators, and communities.

The Inkie.org Library is available to everyone in Illinois, courtesy of RAILS, regardless of whether they have a library card. Items on this platform have no holds, no waits, and can be accessed simultaneously.
Inkie also works with the Indie Author Project (IAP) to connect library patrons with great indie-published books, and users can submit their own self-published titles to Inkie to share in the collection.
Formerly known as BiblioBoard.