For quite some time now, the Yorkville Library has been sharing a Poem of the Week. So far, all of those have been from famous, published poets who are known around the world. Now we'd like to begin sharing poetry from right here at home in Yorkville. Starting in May – the fourth Monday of each month, we will share a poem from a local writer, highlighting all the creativity and talent we have right here in Kendall County. If you'd like your poem to be considered, please contact Adult Services Director – Mike Curtis at mcurtis@yorkville.lib.il.us with your poem, a brief synopsis of what the poem means to you, a one paragraph biography, and a fantastic photo of yourself.
November 27, 2023 – Billy Collins
Billy Collins (1941 – –) is an American poet who served as the Poet Laureate of the United States from 2001 to 2003. He was a Distinguished Professor at Lehman College of the City University of New York, retiring in 2016. Collins was recognized as a Literary Lion of the New York Public Library (1992) and selected as the New York State Poet for 2004 through 2006. In 2016, Collins was inducted into the American Academy of Arts and Letters.  As of 2020, he is a teacher in the MFA program at Stony Brook Southampton.
Collins was born in Manhattan to William and Katherine Collins and grew up in Queens and White Plains. Mrs. Collins had the ability to recite verses on almost any subject, which she often did, and cultivated in her young son the love of words, both written and spoken. Billy Collins' father was a worker on Wall Street who Collins attributes as an inspiration to his humor. 
Collins has been invited to read at The White House three times—in 2001, 2011, and 2014.  In 2014 he traveled to Russia as a cultural emissary of the U.S. State Department. In 2013 and 2015, Collins toured with the singer-songwriter Aimee Mann, performing on stage with her in a music-poetry-conversation format. Collins and Paul Simon have engaged in four onstage conversations about poetry, music, and lyrics, starting in 2008.  Collins presented a TED talk, Everyday moments, caught in time at TED 2012. Collins, as one of the Favorite 100 TED speakers of all time, was invited to give another TED talk at TED 2014 in Vancouver, Canada. 
As U.S. Poet Laureate, Collins read his poem The Names at a special joint session of the United States Congress on September 6, 2002, held to remember the victims of the 9/11 attacks.  Collins was asked by the Librarian of Congress to write a poem especially for that event. Collins initially refused to read "The Names" in public, though he has read it two times in public since 2002. He vowed not to include it in any of his books, refusing to capitalize on the 9/11 attacks.
What historical figure would you like to have help you shovel the snow?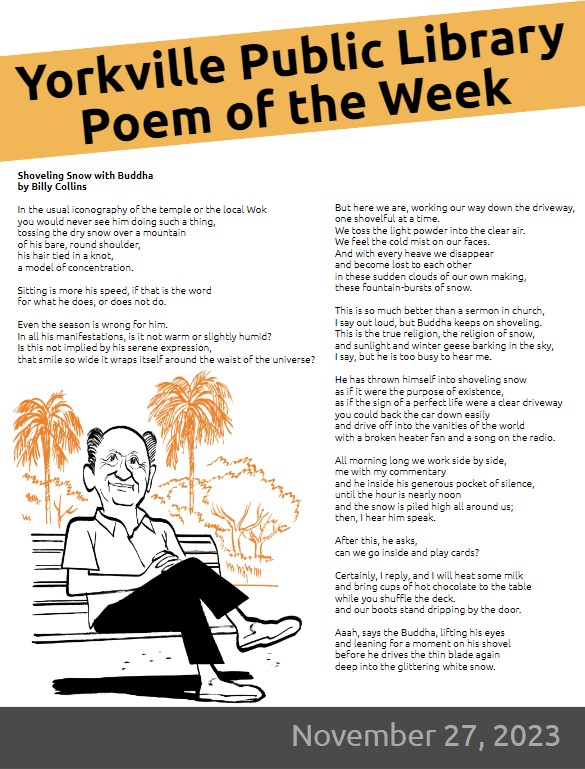 November 20, 2023 – Henry Wadsworth Longfellow
Henry Wadsworth Longfellow (1807 – 1882) was an American poet and educator. His original works include the poems "Paul Revere's Ride", "The Song of Hiawatha", and "Evangeline". He was the first American to completely translate Dante Alighieri's Divine Comedy and was one of the fireside poets from New England.
Longfellow wrote many lyric poems known for their musicality and often presenting stories of mythology and legend. He became the most popular American poet of his day and had success overseas. He has been criticized for imitating European styles and writing poetry that was too sentimental.
This is a poem all about sadness and there is that gentle soft fall of sadness akin to a feather wafting down to the ground by an eagle personified as the fall of night. As though the night has taken away something beautiful. The eagle is no longer seen. At the same time something beautiful remains by the feather slowly floating down.
So what is left at the end of the day is just a feather. The end of the day is often seen as a poetic suggestion to the end of life. So here is something beautiful left behind blowing in the wind and disappearing in the night.
Then the lights of the village are blurred as though the sadness has affected the poet's vision. And there is sorrow with the sadness like with mist and rain; implying perhaps that the sorrow is not overwhelming.
The poem ends ambiguously, leaving it to the reader to determine their own interpretation based on their own personal experiences.   Longfellow dealt with a lot in his life, so it's easy to apply his story to the words he gives us in this poem – but that may not be what he intended, instead offering a more universal piece that would give different meaning to different readers.  
Longfellow was often criticized for being too sentimental or sappy.  Do you agree?
November 13, 2023 – Ruth Stone
Ruth Stone (1915 – 2011) was an award-winning American poet born in Roanoke, Virginia and lived there until age 6, when her family moved back to her parents' hometown of Indianapolis, Indiana.  She went to college at the University of Illinois. Her first marriage was to John Clapp in 1935, and they had one daughter.  Her second marriage was to professor and poet Walter Stone, in 1944, with whom she had two daughters. Walter Stone, who served in World War II, received a PhD from Harvard, and taught at University of Illinois, and then at Vassar College.  Walter Stone committed suicide in 1959; this tragedy shaped the path of Ruth Stone's life, as she sought ways to support herself and her daughters by teaching poetry at universities across the United States.
Her work is distinguished by its tendency to draw imagery and language from the natural sciences.  When Stone received the Kenyon Review Fellowship in Poetry, she and Walter used the funds to buy a house in Goshen, Vermont, expecting that it would be a place to go in the summers, and to eventually retire. The house became a refuge for Stone after Walter's death, and over the years, became an intellectual center for her students and other poets. 
Stone's residence in Goshen was listed on the National Register of Historic Places in 2016. Her heirs (both literary and family) — including her granddaughter, poet and visual artist Bianca Stone — have established a foundation to convert the property into a writer's retreat. The Ruth Stone Poetry Prize awarded by The Vermont College of Fine Arts and their literary journal Hunger Mountain is in its sixth year.  Stone's daughters Phoebe Stone and Abigail Stone, and her granddaughters Hillery Stone and Bianca Stone, are all published writers.
Stone's verse was published widely in periodicals, and she was the author of thirteen books of poetry. In 1990 Stone became a professor of English and Creative Writing at Binghamton University and retired from this position at the age of 85.  Stone died at her home in Goshen, Vermont, on November 19, 2011.  She was buried near the raspberry bushes behind her Goshen home.
What other literary works paint such a perfect picture of family influence?
November 6, 2023 – Amy Lowell
Amy Lowell (1874 – 1925) was an American poet of the imagist school, which promoted a return to classical values. She posthumously won the Pulitzer Prize for Poetry in 1926.  She was born in Boston, Massachusetts, the daughter of Augustus Lowell and Katherine Bigelow Lowell.  School was a source of considerable despair for the young Amy Lowell. She considered herself to be developing "masculine" and "ugly" features and she was a social outcast. She had a reputation among her classmates for being outspoken and opinionated.
Lowell never attended college because her family did not consider it proper for a woman to do so. She compensated for this lack with avid reading and near-obsessive book collecting.  She lived as a socialite and travelled widely, turning to poetry in 1902  after being inspired by a performance of Eleonora Duse in Europe. After beginning a career as a poet when she was well into her 30s, Lowell became an enthusiastic student and disciple of the art.
Heywood Broun, in his obituary tribute to Amy, wrote, "She was upon the surface of things a Lowell, a New Englander and a spinster. But inside everything was molten like the core of the earth … Given one more gram of emotion, Amy Lowell would have burst into flame and been consumed to cinders."
Lowell died of a cerebral hemorrhage in 1925, at the age of 51 and is buried at Mount Auburn Cemetery.[11] The following year, she was awarded the Pulitzer Prize for Poetry for What's O'Clock. That collection included the patriotic poem "Lilacs", which Louis Untermeyer said was the poem of hers he liked best.  Though she sometimes wrote sonnets, Lowell was an early adherent to the "free verse" method of poetry and one of the major champions of this method.
What does November make you think of?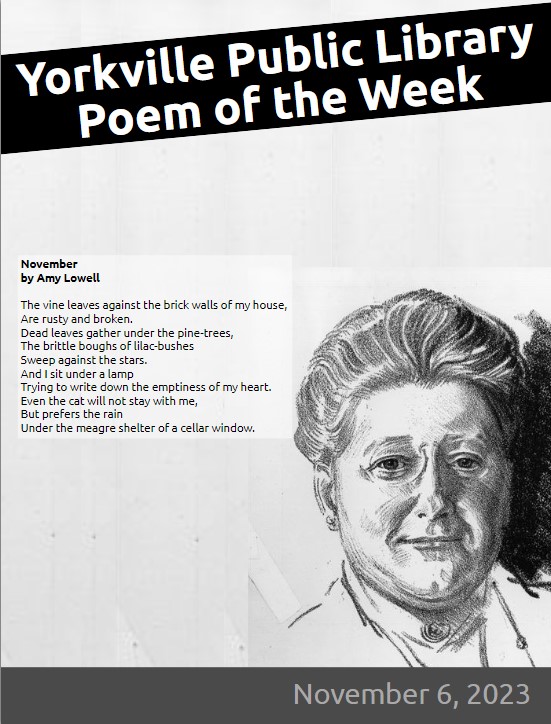 October 30, 2023 – Joel Benton
Joel Benton (1832 – 1911) was a poet and scholar Joel Benton was born in New York.  He is the author of Emerson as a Poet (1883) and In the Poe Circle (1899).
This poem hints at some of the origins of Halloween.  While finding the truth behind some holiday's origins may be like trying to play a game of historical telephone, it's fun to look into some of the legends and stories to search for kernals of truth – this time of year, those are probably candy corn kernals.
Halloween is All Hallows Eve.  According to some legends, November 1 is All Saint's Day when we theoretically honor all the saints for the good work they did in defeating the forces of evil.  Because of all our positive energy on All Saints Day, those evil forces are weaker – so October 31 is their last chance to wreak havoc and cause chaos – a last ditch effort to get people.

Back in the day, in order to keep them at bay, Mummers and Morris Dancers used to go around putting on performances which theoretically scared the Bad Things away. Then people gave them food in payment for their services. If someone didn't pay, the performers would withdraw their protection, and Bad Things would happen on that person's property. As time went on, these customs gradually lost some of their original meanings, and through various stages came to be what we celebrate today.  This poem talks about some of the Bad Things and the mischief they'd cause, but the poem also hints that maybe the chaos is being caused by unruly sixteen year olds dressed in costume playing some Halloween tricks while out getting some treats.
No matter the reason for the celebration, this time of year its always fun to carve pumpkins, pick apples, dress up in scary or silly costumes, and eat way more candy than we probably should.  
Happy Halloween.
What do you think the perfect age is to enjoy Halloween?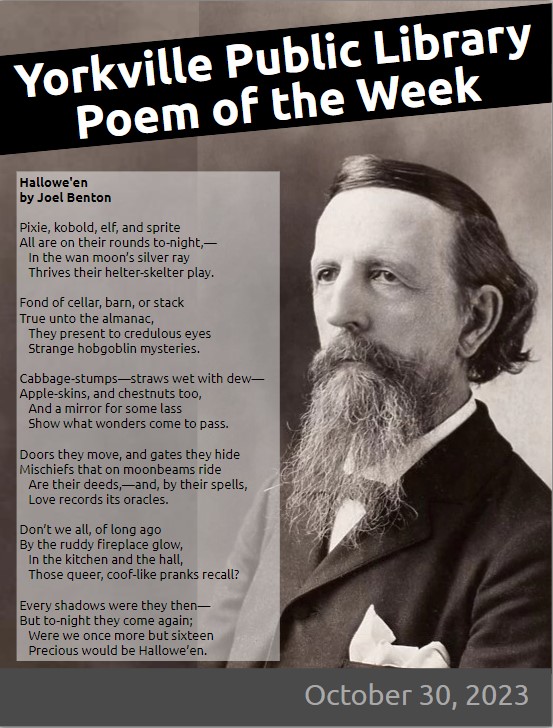 October 23, 2023 – Fady Joudah
Fady Joudah (1971 – –) is a Palestinian American physician, poet, and translator. He was born in Austin, Texas, and grew up in Libya and Saudi Arabia. He was educated at the University of Georgia, the Medical College of Georgia, and the University of Texas Health Sciences in Houston. In 2002 and 2005 he worked with Doctors Without Borders in Zambia and Sudan, respectively.
Joudah's debut collection of poetry, The Earth in the Attic (2008), won the 2007 Yale Series of Younger Poets competition, chosen by Louise Glück. Joudah followed his second book of poetry, Alight (2013) with Textu (2014), a collection of poems written on a cell phone wherein each piece is exactly 160 characters long. His fourth collection is Footnotes in the Order of Disappearance (2018).  In 2014, Joudah was a Guggenheim Fellow in poetry. 
As critic Charles Bainbridge observed in a 2008 Guardian review of The Earth in the Attic, "Joudah's poetry thrives on dramatic shifts in perspective, on continually challenging received notions."
Joudah translated  several collections of Palestinian poet Mahmoud Darwish's work in The Butterfly's Burden (2006), which won the Banipal prize from the UK and was a finalist for the PEN Award for Poetry in Translation; and in If I Were Another, which won a PEN USA award in 2010. His translation of Ghassan Zaqtan's Like a Straw Bird It Follows Me (2012) won the Griffin International Poetry Prize in 2013. His other translations include Amjad Nasser's Petra: The Concealed Rose and A Map of Signs and Scents.
Joudah lives with his family in Houston, where he works as a physician of internal medicine.
Are you a squish the bug or a save the bug kind of person?
October 16, 2023 – Matthew Hollis
Matthew Hollis (1971 – –) is an English author, editor, professor, and poet, currently living in London, England.  He was born in Norwich, the son of politician Patricia Hollis and academic Martin Hollis. He has studied at the universities of Edinburgh and York. He presently lives in London, England, writing as well as serving as a tutor for the London Poetry School and working as an editor at Faber and Faber.
Matthew Hollis explores territories related to the four cardinal points of the compass in his recent poetry collection Earth House, looking north from London, England, to the Bering Strait. The Diomedes of the names are two rocky islands situated between Siberia and Alaska. Big Diomede (known also as Tomorrow Isle) is Russian territory, Little Diomede (or Yesterday Isle) belongs to the US: during the Cold War the sea between them was nicknamed the Ice Curtain. Big Diomede today is occupied by military units, but there's still a small population on Little Diomede of indigenous Alaska people known for their skill in ivory carving. The islands are only 2.4 miles from each other at their closest point but, measured by time, they're 21 hours apart, being separated by the international date line.
Only the essential minimum of information is slipped into the first stanza, and its symbolic importance to the poem tactfully understated. Hollis is reticent, too, about the identity of the man whose activities the poem begins by describing. "He" might well be a neighbor in the poet's locality. As we'll see later, neighbors are elusive presences in the poem, and neighborliness is a significant theme. Neighbors often guard themselves against intimacy, and even the friendliest usually has a well-edited public narrative to share with those others with whom, especially in a big city, he may feel packed a little uncomfortably.
What do you think it'd be like living in the Diomedes – just a few miles from your neighbors, but also 21 hours apart?
October 9, 2023 – Paul Laurence Dunbar
Paul Laurence Dunbar (1872 -1906) was an American poet, novelist, and short story writer of the late 19th and early 20th centuries. Born in Dayton, Ohio, to parents who had been enslaved in Kentucky before the American Civil War, Dunbar began writing stories and verse when he was a child. He published his first poems at the age of 16 in a Dayton newspaper, and served as president of his high school's literary society.
At the age of 16, Dunbar published the poems "Our Martyred Soldiers" and "On The River" in 1888 in Dayton's The Herald newspaper.  In 1890 Dunbar wrote and edited The Tattler, Dayton's first weekly African-American newspaper. It was printed by the fledgling company of his high-school acquaintances, Wilbur and Orville Wright. The paper lasted six weeks.  After completing his formal schooling in 1891, Dunbar took a job as an elevator operator, earning a salary of four dollars a week. He had hoped to study law, but was not able to because of his mother's limited finances. He was restricted at work because of racial discrimination. The next year, Dunbar asked the Wrights to publish his dialect poems in book form, but they suggested he go to the United Brethren Publishing House which, in 1893, printed Dunbar's first collection of poetry, Oak and Ivy.  Dunbar subsidized the printing of the book, and quickly earned back his investment in two weeks by selling copies personally, often to passengers on his elevator.
Dunbar's popularity increased rapidly after his work was praised by William Dean Howells, a leading editor associated with Harper's Weekly. Dunbar became one of the first African-American writers to establish an international reputation. In addition to his poems, short stories, and novels, he also wrote the lyrics for the musical comedy In Dahomey (1903), the first all-African-American musical produced on Broadway in New York. The musical later toured in the United States and the United Kingdom.  Suffering from tuberculosis, which then had no cure, Dunbar died in Dayton, Ohio, at the age of 33.
What is your favorite month of the year?
October 2, 2023 – Maya Angelou
As we celebrate "Banned Books Week," let's take a look at one of America's most celebrated – yet also most challenged – authors, Maya Angelou.
Maya Angelou (1928-2014) was an American memoirist, poet, and civil rights activist. She published seven autobiographies, three books of essays, several books of poetry, and is credited with a list of plays, movies, and television shows spanning over 50 years. She received dozens of awards and more than 50 honorary degrees. Angelou's series of seven autobiographies focus on her childhood and early adult experiences. The first, I Know Why the Caged Bird Sings (1969), tells of her life up to age 17 and brought her international recognition and acclaim.
She became a poet and writer after a string of odd jobs during her young adulthood. These included fry cook, teacher, Southern Christian Leadership Conference coordinator, and correspondent in Egypt and Ghana during the decolonization of Africa. Angelou was also and actress, writer, director, and producer of plays, movie, and public television programs. Angelou was active in the Civil Rights Movement and worked with Martin Luther King Jr. and Malcolm X. Beginning in the 1990s, she made approximately 80 appearances a year on the lecture circuit, something she continued into her eighties. In 1993, Angelou recited her poem "On the Pulse of Morning" (1993) at the first inauguration of Bill Clinton, making her the first poet to make an inaugural recitation since Robert Frost at the inauguration of John F. Kennedy in 1961.
With the publication of I Know Why the Caged Bird Sings, Angelou publicly discussed aspects of her personal life. She was respected as a spokesperson for Black people and women, and her works have been considered a defense of Black culture. Her works are widely used in schools and universities worldwide, although attempts have been made to ban her books from some U.S. libraries. Angelou's most celebrated works have been labeled as autobiographical fiction, but many critics consider them to be autobiographies. She made a deliberate attempt to challenge the common structure of the autobiography by critiquing, changing, and expanding the genre. Her books center on themes including racism, identity, family, and travel.
What's the best "Banned Book" you've ever read?
September 25, 2023 – Kay Ryan
Kay Ryan (1945 – –) is an American poet and educator. She has published seven volumes of poetry and an anthology of selected and new poems. From 2008 to 2010 she was the sixteenth United States Poet Laureate. In 2011 she won the Pulitzer Prize.
Ryan was born in San Jose, California, and received her bachelor's and master's degrees in English from University of California, Los Angeles.  Since 1971, she has  taught English part-time at the College of Marin in Kentfield.  Carol Adair, who was also an instructor at the College of Marin, was Ryan's partner from 1978 until Adair's death in 2009.
Her first collection, Dragon Acts to Dragon Ends, was privately published in 1983 with the help of friends.  While she found a commercial publisher for her second collection, Strangely Marked Metal (1985), her work went nearly unrecognized until the mid-1990s, when some of her poems were anthologized and the first reviews in national journals were published.  She became widely recognized following her receipt of the Ruth Lilly Poetry Prize in 2004.  In July 2008, the U.S. Library of Congress announced that Ryan would be the sixteenth United States Poet Laureate, a position she held for two years.  She was the first openly lesbian United States Poet Laureate.
The Poetry Foundation's website characterizes Ryan's poems as follows: "Like Emily Dickinson and Marianne Moore before her, Ryan delights in quirks of logic and language and teases poetry out of the most unlikely places. She regards the 'rehabilitation of clichés,' for instance, as part of the poet's mission. Characterized by subtle, surprising rhymes and nimble rhythms, her compact poems are charged with sly wit and off-beat wisdom."
What could you lose that others may see as trivial, but would be heartbreaking for you?
September 18, 2023 – Martin Espada
Martín Espada (1957 – –) is a Puerto Rican-American poet and a professor at the University of Massachusetts Amherst, where he teaches poetry. Puerto Rico has frequently been featured as a theme in his poems.
Espada was born in Brooklyn, New York. He was introduced to political activism at an early age by his father, Frank Espada, a leader in the Puerto Rican community and the civil rights movement.  As a poet, essayist, translator, editor, and attorney, Martín Espada has dedicated much of his career to the pursuit of social justice, including fighting for human rights and reclaiming the historical record. His critically acclaimed collections of poetry celebrate—and lament—the working class experience. Whether narrating the struggles of immigrants as they adjust to life in the United States, or chronicling the battles that Latin Americans have waged against their own repressive governments, Espada has given voice to otherness, powerlessness, and poverty into poetry that is at once moving and vivid. He is the author of more than a dozen collections of poetry and several books of essays.
Espada received a B.A. in history from the University of Wisconsin–Madison and a J.D. from Northeastern University (Boston, Massachusetts). For many years, he worked as a tenant lawyer and a supervisor of a legal services program. In 1982, Espada published his first book of political poems, The Immigrant Iceboy's Bolero, featuring photography by his father. This was followed by Trumpets from the Islands of their Eviction (1987) and Rebellion is the Circle of a Lover's Hands.  In 2001, he was named the first Poet Laureate of Northampton, Massachusetts.  In 2018, Espada received the Ruth Lilly Poetry Prize, a lifetime achievement award given by the Poetry Foundation to a living U.S. poet.  Espada was the first Latino recipient of the honor.
What have you done in the past to stretch the food budget a little bit?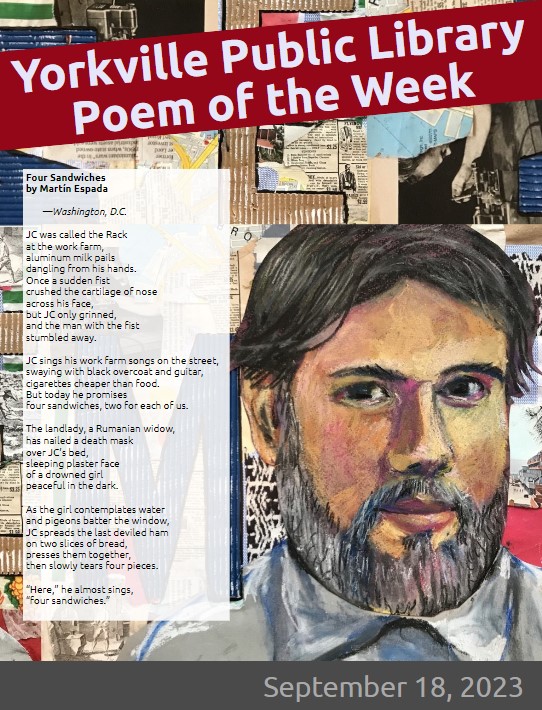 September 11, 2023 – Warsan Shire
Warsan Shire (1988 – –) is a British writer, poet, editor and teacher, who was born to Somali parents in Kenya.  In 2013 she was awarded the inaugural Brunel University African Poetry Prize, chosen from a shortlist of six candidates out of a total 655 entries.  Her words "No one leaves home unless/home is the mouth of a shark", from the poem "Conversations about Home (at a deportation centre)", have been called "a rallying call for refugees and their advocates".
Shire migrated with her family to the United Kingdom at the age of one.  In 2011, she released Teaching My Mother How To Give Birth, a poetry pamphlet.  Her full collection was released in 2016.  Shire's poetry featured prominently in Beyoncé's 2016 feature-length film Lemonade.  Knowles-Carter's interest in using Shire's work was sparked with Shire's piece "For Women Who Are Difficult to Love".  Beyoncé again featured Shire's poetry in her 2020 musical film Black Is King.  Shire published Bless the Daughter Raised by a Voice in Her Head: Poems on 1 March 2022.
Shire uses not only her own personal experiences but also the experiences of people to whom she is close. She is quoted as saying: "I either know, or I am, every person I have written about, for or as. But I do imagine them in their most intimate settings.  "Her main interest is writing about and for people who are generally not heard otherwise, e.g. immigrants and refugees as well as other marginalized groups of people.  Shire is also quoted as saying: "I also navigate a lot through memory, my memories and other people's memories, trying to essentially just make sense of stuff."  As a first-generation immigrant, she has used her poetry to connect with her home country of Somalia, which she has never been to, but which she describes as "a nation of poets".  She uses her position as an immigrant herself to convey the lives of these peoples.  Shire utilizes the influences of her close relatives, and family members and their experiences to depict in her poetry the struggles that they have all faced.
Which is your favorite Warsan Shire poem featured in Beyoncé's Lemonade?
September 4, 2023 – Blanca Varela
Blanca Leonor Varela Gonzáles (1926 –2009) was a Peruvian poet. Daughter of writer, poet, singer,and journalist Serafina Quinteras.
Blanca Varela was born in Lima and studied at the National University of San Marcos where she met other future writers such as Sebastián Salazar Bondy, Javier Sologuren, Jorge Eduardo Eielson, and her future husband, the artist and sculptor Fernando de Szyszlo with whom she had two children. In 1949 they traveled to Paris where she met Octavio Paz, a key figure in her life, who introduced her to otherartists and intellectuals there.  While in Paris, Varela was part of the group of expatriate Latin American artists and writers who met regularly at the Café de Flore, engaging in vigorous discussions on how they could participate in the international modern movement while preserving their Latin American cultural identity. Paz persuaded her to publish her poetry, and in the preface to the first edition of her debut book Ese puerto existe (1959), he wrote: "At that time we all used to sing. And among those songs, you could hear a lonesome song of one Peruvian girl: Blanca Varela. The most secret, timid, and natural of them all."
Her poems are surrealist in the way that they try to express the world in an innocent way from the inner space's point of view, yet they cannot prevent cruelty from coming into them from the outside world. This attempt to find perfection with every new poem has, according to Mario Vargas Llosa who used Varela's poems as a notable examples of his philosophy, "the quality of heroes from ancient myths who die, but fight to the very last moment anyway."
This poem, "Chiaroscuro" is a play on the artistic term.  In photography and visual art, chiaroscuro is a contrasting of light and shade. Originally applied to painting, the term is used in the criticism of various literary forms involving the contrast of light and darkness, as in much of Hawthorne's and Nabokov's fiction and in Faulkner's Light in August.
What literary term or artistic technique can you apply to your own life?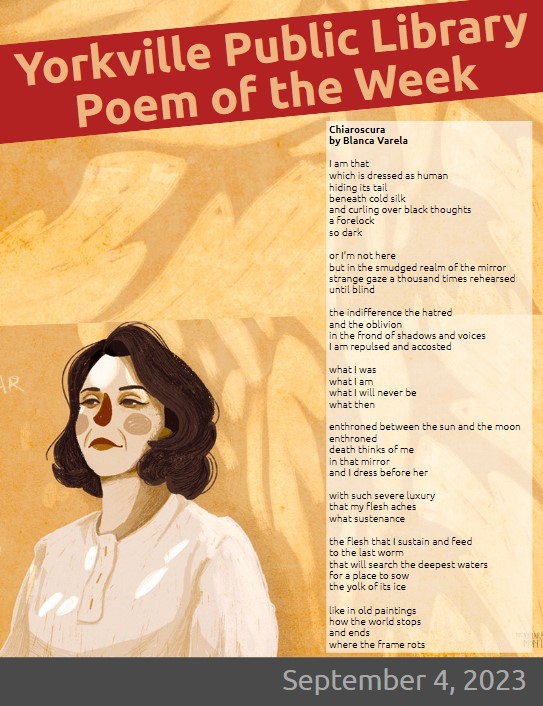 August 28, 2023 – William Ernest Henley
William Ernest Henley (1849  – 1903) was an English poet, writer, critic and editor. Though he wrote several books of poetry, Henley is remembered most often for his 1875 poem "Invictus". A fixture in London literary circles, the one-legged Henley might have been the inspiration for Robert Louis Stevenson's character Long John Silver.  
When Henley was 16 years old, his left leg required amputation owing to complications arising from tuberculosis. In the early 1870s, after seeking treatment for problems with his other leg, he was told that it would require a similar procedure.  He instead chose enlist the services of the distinguished English surgeon Joseph Lister, who was able to save Henley's remaining leg.  While recovering, he was moved to write the verses that became the poem "Invictus". A memorable evocation of Victorian stoicism—the "stiff upper lip" of self-discipline and fortitude in adversity, which popular culture rendered into a British character trait—"Invictus" remains a cultural touchstone.
"Invictus" is a deeply descriptive and motivational work filled with vivid imagery.  The poem is most known for its themes of willpower and strength in the face of adversity, much of which is drawn from the horrible fate assigned to many amputees of the day—gangrene and death.  Each stanza takes considerable note of Henley's perseverance and fearlessness throughout his early life and over twenty months under Lister's care. Throughout the poem, Henley refers to the strength that helped him through a childhood defined by his struggles with tuberculosis. 
What kind of hobby do you have that gets you through tough times?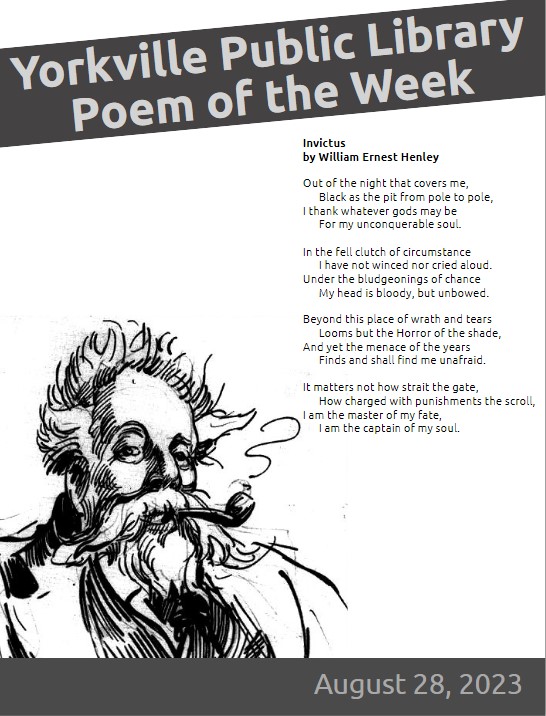 August 21, 2023 – Harriet Monroe
Harriet Monroe (1860 – 1936) was an American editor, scholar, literary critic, poet, and patron of the arts. She was the founding publisher and long-time editor of Poetry magazine, which she established in 1912. As a supporter of the poets Wallace Stevens, Ezra Pound, H. D., T. S. Eliot, William Carlos Williams, Carl Sandburg, Max Michelson and others, Monroe played an important role in the development of modern poetry. Her correspondence with early twentieth century poets provides a wealth of information on their thoughts and motives.
Her poem, "With a Copy of Shelley," was published in 1889, but she became disillusioned by the limited earnings available for poets, saying: "The minor painter or sculptor was honored with large annual awards in our greatest cities, while the minor poet was a joke of the paragraphers, subject to the popular prejudice that his art thrived best on starvation in a garret." She became a freelance correspondent to the Chicago Tribune, and was commissioned to write a commemorative ode to be read at the opening ceremonies for the World's Fair commemorating the 400th anniversary of Columbus's discovery of America.  Shortly afterward, the New York World published that ode without permission.  She sued and won a $5,000 settlement. Monroe then convinced one hundred prominent Chicago business leaders to sponsor her new magazine Poetry by each committing to fifty dollars for a five-year subscription. The $5,000, coupled with her own settlement, was enough to launch the magazine on September 23, 1912, while upholding its promise to contributors of adequate payment for all published work.
This poem is about the meeting of two time periods – a crossroads we constantly find ourselves at.  When reading it, you have to wonder, are the oxen standing in the way of progress, or is it progress that gets in the way of life?
What sort of "progress" do you struggle with?
August 14, 2023 – Edgar Allan Poe
Edgar Allan Poe (1800 – 1849) was an American writer, poet, author, editor, and literary critic who is best known for his poetry and short stories, particularly his tales of mystery and the macabre. He is widely regarded as a central figure of Romanticism and Gothic fiction in the United States, and of American literature. Poe was one of the country's earliest practitioners of the short story, and is considered the inventor of the detective fiction genre, as well as a significant contributor to the emerging genre of science fiction. He is the first well-known American writer to earn a living through writing alone, resulting in a financially difficult life and career.
Poe switched his focus to prose, and spent the next several years working for literary journals and periodicals, becoming known for his own style of literary criticism. His work forced him to move among several cities, including Baltimore, Philadelphia, and New York City. In 1836, he married his 13-year-old cousin, Virginia Clemm, but she died of tuberculosis in 1847. In January 1845, he published his poem "The Raven" to instant success. He planned for years to produce his own journal The Penn (later renamed The Stylus), but before it could be produced, he died in Baltimore on October 7, 1849, aged 40, under mysterious circumstances. The cause of his death remains unknown, and has been variously attributed to many causes including disease, alcoholism, substance abuse, and suicide.
Poe and his works influenced literature around the world, as well as specialized fields such as cosmology and cryptography. He and his work appear throughout popular culture in literature, music, films, and television. A number of his homes are dedicated museums. The Mystery Writers of America present an annual Edgar Award for distinguished work in the mystery genre.
Which of Poe's poems or stories is your favorite?
August 7, 2023 – J. Warren Welch
J. Warren Welch (1973 – –) is an American poet and prose writer, a husband, father of daughters, lover of squats and deadlifts, wearer of leggings, commenter on social issues.  He is the international bestselling author of That's Not Poetry, its sequel Your Mom Thinks It's Poetry, and a forthcoming third book to complete the trilogy. He lives in East Tennessee.
Welch gained fame and popularity with a poem entitled "Rules for dating my daughters" went viral on the internet.  Welch had recently overheard a conversation amongst a group of his male co-workers about suitors for their daughters, and how those young men had better be careful – how the dads would greet them in threatening ways – and in manners that Welch felt were "creepy and possessive" of their daughters.  
Welch's poem showed a different version of fatherhood – in which Welch doesn't threaten these young men, instead warns them that he doesn't need to, because he's raised young women that won't put up with disrespect – and will put those boys in their place themselves if they aren't treated right.  The poem went viral, Welch appearing on national talk shows and in international magazines and newspapers.  People found his belief in and empowerment of his daughters refreshing.  Since, he has released several books of poetry, almost always looking at the world through a different lens than you think you'd get.
"Safe Spaces" carries on Welch's themes of empowerment, empathy, and trying to be a solution to problems he sees in the world.
What's your safe space?
July 31, 2023 – Jalāl al-Dīn Rūmī
Jalāl al-Dīn Rūmī (1207 – 1273), was a 13th century Persian poet, scholar, theologian, and Sufi mystic originally from Greater Khorasan in Greater Iran.  Rumi's works were written mostly in Persian, but occasionally he also used Turkish, Arabic, and Greek in his verse. His Masnavi (Mathnawi), composed in Konya, is considered one of the greatest poems of the Persian language.
Rumi's influence has transcended national borders and ethnic divisions: Iranians, Kurds, Tajiks, Turks, Greeks, Pashtuns, other Central Asian Muslims, as well as Muslims of the Indian subcontinent have greatly appreciated his spiritual legacy for the past seven centuries.  His poetry influenced not only Persian literature, but also the literary traditions of the Ottoman, Turkish, Chagatai, Kurdish, Urdu, Bengali, and Pashto languages.
His works are widely read today in their original language across Greater Iran and the Persian-speaking world. His poems have subsequently been translated into many of the world's languages and transposed into various formats. Rumi has been described as the "most popular poet", is very popular in Türkiye, Azerbaijan and South Asia, and has become the "best selling poet" in the United States – including being a favorite of and very influential to modern artists like Madonna, Coldplay, Jay-Z, and Beyonce, amonst many others.
How do you try to be with those that help your being?
July 24, 2023 – Matsuo Basho
Matsuo Bashō (1644-1694) is the earliest and most revered of the great haiku masters. His impact on the form remains unmatched, as his thinking continues to influence artists, philosophers, and students of aesthetics. Suffering from depression and a persistent sense of loneliness, Bashō's work embodies wabi-sabi. While difficult to articulate, wabi-sabi, for Basho, concerns the pursuit of simplicity – "lightness" – and the beauty of loneliness, "akin to, but deeper than, nostalgia."
He is also well known for his travel essays.  Bashō's poetry is internationally renowned, and many of his poems are reproduced on monuments and traditional site s. Although Bashō is famous in the West for his hokku, he himself believed his best work lay in leading and participating in renku. He is quoted as saying, "Many of my followers can write hokku as well as I can. Where I show who I really am is in linking haikai verses."
Bashō was introduced to poetry at a young age, and after integrating himself into the intellectual scene of Edo (modern Tokyo) he quickly became well known throughout Japan. He made a living as a teacher; but then renounced the social, urban life of the literary circles and was inclined to wander throughout the country, heading west, east, and far into the northern wilderness to gain inspiration for his writing. His poems were influenced by his firsthand experience of the world around him, often encapsulating the feeling of a scene in a few simple elements.
What simple moment in life could you envision someone writing a perfect haiku about?
July 17, 2023 – Raymond Carver
Raymond Carver (1938 – 1988) was an American short story writer and poet. He contributed to the revitalization of the American short story during the 1980s.  Carver was nominated for the National Book Award for his first major-press collection, Will You Please Be Quiet, Please in 1977 and the Pulitzer Prize for Fiction for his third major-press collection Cathedral,   the volume generally perceived as his best. Included in the latter collection are the award-winning stories "A Small, Good Thing", and "Where I'm Calling From".  The latter is included in The Best American Short Stories of the Century.   Carver also won five O. Henry Awards for his short stories.  
In this poem, "Late Fragment?," the question "what did you want?" is the foundation of the piece. The speaker is maybe questioning himself or someone else. The answer is very blunt and frank, "to call myself beloved, to feel myself beloved on the earth."  Carver is emphasizing that being loved and calling oneself loved is the most important thing in life.
Often we think that all we need and want is money, fame, popularity or power. But often we all are just in want of true and unstinted love. The unflinching directness of Carver's answer is both endearing and sad, especially when you consider that Carver died shortly after writing poem – it was published after his death, and these words are inscribed on his tombstone.
Are there any lines from a song or a poem that you'd want on your tombstone?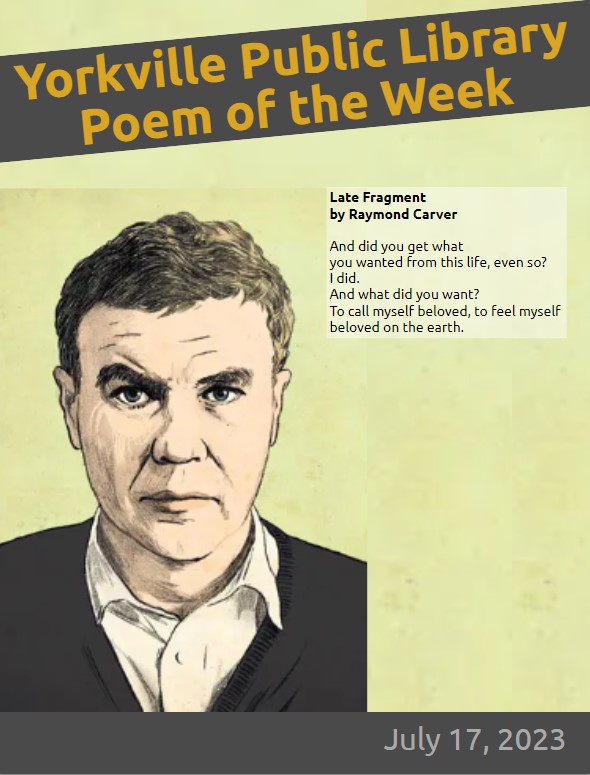 July 10, 2023 – W.H. Auden
Wystan Hugh Auden (1907 – 1973) was a British-American poet. Auden's poetry was noted for its stylistic and technical achievement, its engagement with politics, morals, love, and religion, and its variety in tone, form, and content.  In 1939, he moved to the United States and became an American citizen in 1946, retaining his British citizenship. He taught from 1941 to 1945 in American universities, followed by occasional visiting professorships in the 1950s. 
Auden was a prolific writer of prose essays and reviews on literary, political, psychological, and religious subjects, and he worked at various times on documentary films, poetic plays, and other forms of performance. Throughout his career he was both controversial and influential, and critical views on his work ranged from sharply dismissive—treating him as a lesser figure than W. B. Yeats and T. S. Eliot—to strongly affirmative, as in Joseph Brodsky's statement that he had "the greatest mind of the twentieth century". After his death, his poems became known to a much wider public through films, broadcasts, and popular media.
This powerful, short poem was published in Auden's Another Time. Scholars generally believe Auden was inspired to write it after spending time in Berlin, Germany, in the 1930s. 'Epitaph on a Tyrant' was published in 1939, the same year that World War II began. It's possible to compare the tyrant mentioned in these lines to Adolf Hitler, but, this context is not needed to understand what kind of person the tyrant is nor the fear they strike in other people.
What literary or film characters do you think of when you read this poem?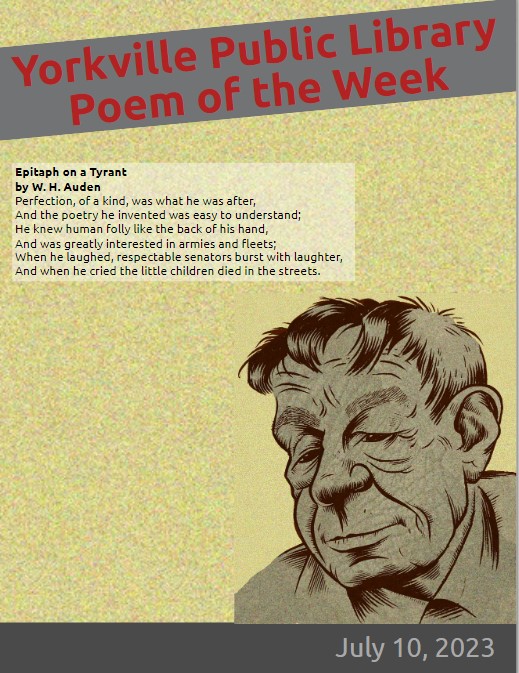 July 3, 2023 – Gregory Djanikian
Gregory Djanikian (1949 – –) is an American poet.  Born in Alexandria, Egypt of Armenian parentage,  Djanikian came to the United States when he was eight years old and spent his boyhood in Williamsport, Pennsylvania. He is a graduate of the Syracuse University writing program and, for many years, was the Director of Creative Writing at the University of Pennsylvania which he attended as an undergraduate. He is the author of seven collections of poetry, The Man in the Middle, Falling Deeply into America, About Distance, Years Later, So I Will Till the Ground, Dear Gravity, and, most recently, Sojourners of the In-Between. He has been awarded a National Endowment of the Arts Fellowship, two prizes from Poetry magazine (the Eunice Tietjens Prize, and Friends of Literature Prize), the Anahid Literary Award from the Armenian Center at Columbia University, and multiple residencies at Yaddo.
Gregory Djanikian's poetry explores topics as wide-ranging as his boyhood in Egypt, the Armenian genocide of 1915, and the intersection of family, history, and culture. In other poems, such as "I Ask My Grandmother If We Can Make Lahmajoun," "In the Elementary School Choir," and "How I Learned English," he takes a lighthearted but perceptive look at the American immigrant experience and the joys and frustrations of "that great melting pot that is the English language." These themes also come together in "Immigrant Picnic," one of his most popular poems, about a Fourth of July family gathering during which mangled English results in exuberant hilarity. When he appeared last year on PBS News hour, he remarked on how "for many of us who have come from different countries, our difficulties with American idioms often lead to unexpected syntactic constructions and surprising turns of phrase which enrich the language and by which we all are enriched."
What English idioms or phrases have messed you up in the past?
June 26, 2023 – Chen Chen
Chen Chen (1989 – –) is a Chinese-American poet.  His book, When I Grow Up I Want to Be a List of Further Possibilities, was longlisted for the 2017 National Book Award for Poetry.  Chen serves on the poetry faculty for the low-residency MFA programs at New England College and Stonecoast.  He served as Jacob Ziskind Poet-in-Residence at Brandeis University from 2018-2022.
Chen was born in Xiamen, China and grew up in Massachusetts. After graduating from Newton North High School, he received his B.A. in creative writing and Asian/Pacific/American Studies at Hampshire College in 2011, and his M.F.A. from Syracuse University in 2014.  Chen completed his Ph.D. in English and creative writing at Texas Tech University, where he was a part-time instructor in composition.
His work has appeared in Poetry, The Massachusetts Review, Drunken Boat, Best of the Net, The Best American Poetry, The Academy of American Poets, and elsewhere. He has served as a poetry editor for Salt Hill Journal, and currently serves as editor-in-chief of Underblong and managing editor for Iron Horse Review.  He also edits "the lickety split", a Twitter-based journal that "only publishes poems that fit in a single tweet", alongside his fictional assistant editor Gudetama the Egg.
When you were younger, what did you want to be when you grow up?
June 19, 2023 – Rosamund S. King
Rosamond S. King is an American poet and literary theorist. She is a literature professor at Brooklyn College, where her courses focus on Caribbean and African literature, sexuality, and performance. In 2017, she won the Lambda Literary Award for her debut poetry collection, Rock | Salt | Stone.
King was born in the United States to a mother from Trinidad and a father from the Gambia. Her family moved frequently throughout her childhood.
She attended Cornell University, graduating with a bachelor's degree in literature in 1996. Next, she matriculated at New York University, where she graduated with a master's and subsequently a Ph.D. in comparative literature in 2001. She then traveled to the Gambia, where she studied Gambian literature on a Fulbright scholarship.
King began publishing poetry in 1994, but it was many years before she was able to publish a full-length collection.  In 2004, she was the lead editor for the collection Voices of the City: Newark Reads Poetry, and in 2009 she published a poetry chapbook, At My Belly and My Back.  She also co-edited Theorizing Homophobias in the Caribbean: Complexities of Place, Desire, and Belonging, a digital multimedia project launched in 2012.[11][12] She joined the Executive Board of the Organization of Women Writers of Africa in 2011 and became president in 2018.
What pieces of art that intentionally break the rules have you enjoyed?
June 12, 2023 – Audre Lorde
Audre Lorde (1934 – 1992) was an American writer, womanist, radical feminist, professor, philosopher and civil rights activist. She was a self-described "black, lesbian, feminist, socialist, mother, warrior, poet," who "dedicated both her life and her creative talent to confronting and addressing injustices of racism, sexism, classism, and homophobia." 
As a poet, she is well known for technical mastery and emotional expression, as well as her poems that express anger and outrage at civil and social injustices she observed throughout her life. As a spoken word artist, her delivery has been called powerful, melodic, and intense by the Poetry Foundation.  Her poems and prose largely deal with issues related to civil rights, feminism, illness and disability, and the exploration of black female identity
The poem takes the reader into the mind of a fourteen-year-old girl who is beseeched by doubts and concerns. She lists out all her worries while at the same time alluding to the fact that her mother is not there for her. The girl is concerned about her ashy knees, a boy she's infatuated with, and what to wear to school. But at the same time, she also thinks about dying before she grows up. Each stanza ends with the repetition of the phrase "and momma's in the bedroom / with the door closed" suggesting that things would be improved for her if she could only talk to her mother. She doesn't want where she is now to be as far as she goes in life. But, she also doesn't know what's next or how to get there. That's where her mother should come in but doesn't. 
Who did you seek help from, but could never quite find a way to connect with?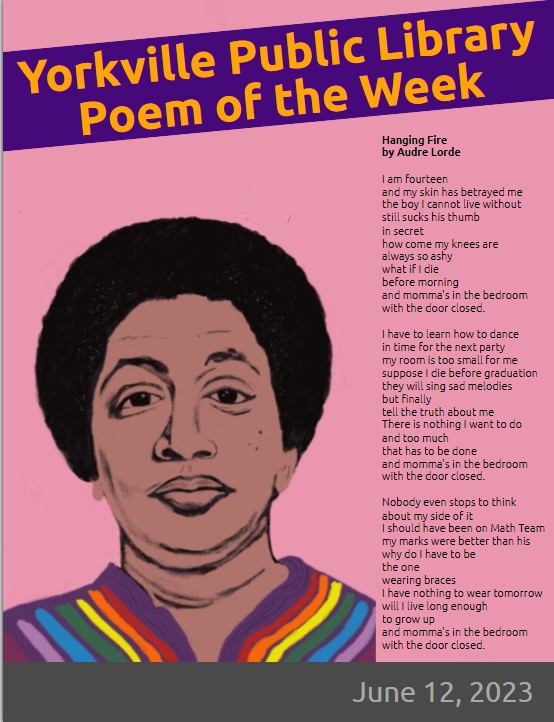 June 5, 2023 – Joshua Jennifer Espinoza
Joshua Jennifer Espinoza (1987 – –) is an American poet from Riverside, California.  She is a Visiting Professor of English at Occidental College in Los Angeles, California.  Espinoza's works have been published in Poetry Magazine, PEN America, Lambda Literary, The Offing, Shabby Doll House, Electric Cereal, Voicemail Poems, and The Rumpus. 
Encouraged by her parents to follow her creative leanings, she wrote stories as a child before discovering Langston Hughes in middle school and turning to poetry. The blog culture of the 2000s-era internet was an important space for the young poet in sharing and developing her writing.  Written in a raw, confessional style, Espinoza's poetry explores topics including the body, beauty and desire, trauma and mental illness, and identity.
According to the poet, this piece was inspired by being out on tour with Sister Spit, a revolving, long-running collective of writers. I was thinking about our interactions with one another, the community we found sharing our work together, and how even as this world tries to kill us, we persist—if not in body, then in spirit, in the words we give as offerings.
Who is part of your community that keeps you inspired and moving forward?
May 29, 2023 – W.H. Auden
Wystan Hugh Auden (1907 – 1973) was a British-American poet. Auden's poetry was noted for its stylistic and technical achievement, its engagement with politics, morals, love, and religion, and its variety in tone, form, and content. Some of his best known poems are about love, such as "Funeral Blues"; on political and social themes, such as "September 1, 1939" and "The Shield of Achilles"; on cultural and psychological themes, such as The Age of Anxiety; and on religious themes such as "For the Time Being" and "Horae Canonicae".
This poem, 'Stop all the clocks' – poem number IX in his Twelve Songs, and also sometimes known as 'Funeral Blues' – is a poem so famous and universally understood that perhaps it is unnecessary to offer much in the way of textual analysis. 'Funeral Blues' is, then, a poem full of common tropes associated with funerals and mourning. But immediately from those opening words onwards, 'Stop all the clocks', there is a suggestion that the poem is going above and beyond – or asking us to go above and beyond – the usual conventions associated with the mourning of a lost loved one. 
And when we examine the tropes and images of Auden's poem more closely, it becomes more interesting. Is this poem, after all, a sincere expression of personal grief? There is a sense of the melodramatic in many of the (impossible or unreasonable) requests the speaker demands: putting out all of the stars, for instance, or pouring away all the oceans. Even asking the traffic policemen to don black gloves in recognition of the passing of the dead person seems excessive.
Perhaps, then, this is not merely an expression of personal grief, but a poem of mourning for a more public figure? After all, we are used to more rhetoric, and to wholesale public displays of mourning, when a high-profile public figure dies.
Who stops all your clocks and puts out your stars?
May 22, 2023 – Sujata Bhatt
Sujata Bhatt (1956 – –) is an Indian poet born in Ahmedabad, Gujarat and brought up in Pune until 1968, when she immigrated to United States with her family.  She has an MFA from the University of Iowa, and for a time was writer-in-residence at the University of Victoria, Canada. She received the Commonwealth Poetry Prize (Asia) and Alice Hunt Bartlett Prize for her first collection Brunizem in 1987. She received a Cholmondeley Award in 1991 and Italian Tratti Poetry Prize in 2000. She has translated Gujarati poetry into English for the Penguin Anthology of Contemporary Indian Women Poets. Combining Gujarati and English, Bhatt writes "Indian-English rather than Anglo-Indian poetry." Michael Schmidt (poet) observed that her "free verse is fast-moving, urgent with narratives, softly spoken. Bhatt lives in Bremen, Germany with her husband, the German writer Michael Augustin, and daughter.
Der Kleiber: Eurasian Nuthatch is a deceptively simple poem. The diction is plain: there is no special figurative effort to conjure the bird and inventively dazzle the reader. The tone is not that of the celebratory nature poem. Its curtness might be on the edge of humour, but there are hints of greater disturbance under the surface. The speaker doesn't reassure the reader with specificity of context: we don't know where "over here" is located. Interviewed in Kunapipi, Bhatt described her reluctance to be geographically placed and fixed. The polylingual naming of the bird in the current poem's title may be indicative. 
At this point, we might remind ourselves of the epigraph (from Michael Schmidt's A Bright Jewel in An Aethiope's Ear). And we might ask ourselves if the poem itself is about finding "the littlest thing / you can spin a poem out of" or, indeed, the process of writing itself. Der Kleiber: Eurasian Nuthatch appears to be simple documentary rather than word-spinning. It's not in search of an epiphany, and yet, perhaps for that very reason, it finally earns one.
What is the littlest thing you could spin a poem out of?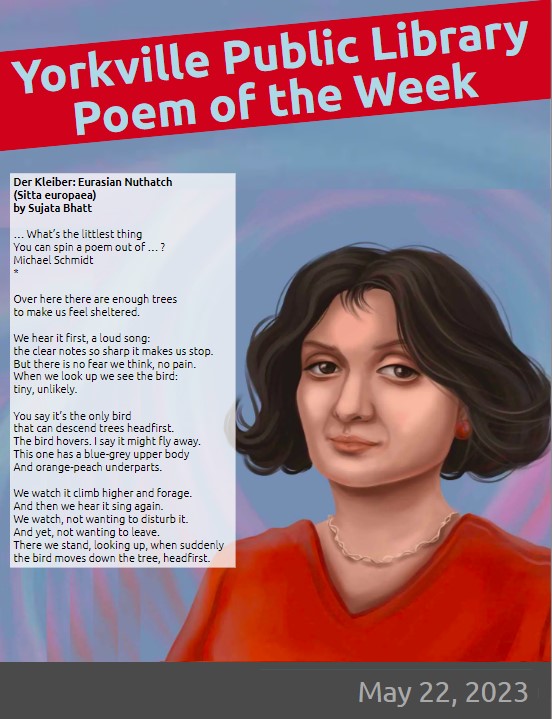 May 15, 2023 – Carl Sandburg
Carl Sandburg (1878 – 1967) was an American poet, biographer, journalist, and editor. He won three Pulitzer Prizes: two for his poetry and one for his biography of Abraham Lincoln. During his lifetime, Sandburg was widely regarded as "a major figure in contemporary literature", especially for volumes of his collected verse, including Chicago Poems (1916), Cornhuskers (1918), and Smoke and Steel (1920).  He enjoyed "unrivaled appeal as a poet in his day, perhaps because the breadth of his experiences connected him with so many strands of American life".  When he died in 1967, President Lyndon B. Johnson observed that "Carl Sandburg was more than the voice of America, more than the poet of its strength and genius. He was America."  This poem, "Home" is the third segment of a three-part series of poems called "Poems Done on a Late Night Car." 
 Admirers of his poetry have included Sherwood Anderson ("among all the poets of America he is my poet"), and Amy Lowell, who called Chicago Poems (1916) "one of the most original books this age has produced." Lowell's observations were reiterated by H.L. Mencken, who called Sandburg "a true original, his own man." No one, it is agreed, can deny the unique quality of his style. In his newspaper days, an old friend recalls, the slogan was, "Print Sandburg as is." It was Sandburg, as Golden observes, who "put America on paper," writing the American idiom, speaking to the masses, who held no terror for him. As Richard Crowder notes in Carl Sandburg, the poet "Had been the first poet of modern times actually to use the language of the people as his almost total means of expression. … Sandburg had entered into the language of the people; he was not looking at it as a scientific phenomenon or a curiosity. … He was at home with it." Sandburg's own Whitmanesque comment was, "I am the people—the mob—the crowd—the mass. Did you know that all the work of the world is done through me?" He was always read by the masses, as well as by scholars. He once observed, "I'll probably die propped up in bed trying to write a poem about America." 
What is your greatest memory of mom?
May 8, 2023 – Octavio Paz
Octavio Paz (1914 –1998) was a Mexican poet and diplomat. For his body of work, he was awarded the 1977 Jerusalem Prize, the 1981 Miguel de Cervantes Prize, the 1982 Neustadt International Prize for Literature, and the 1990 Nobel Prize in Literature.
A prolific author and poet, Paz published scores of works during his lifetime, many of which have been translated into other languages. A lot of his poetry has been translated into English. His early poetry was influenced by Marxism, surrealism, and existentialism, as well as religions such as Buddhism and Hinduism. His poem, "Piedra de sol" ("Sunstone"), written in 1957, was praised as a "magnificent" example of surrealist poetry in the presentation speech of his Nobel Prize.  His later poetry dealt with love and eroticism, the nature of time, and Buddhism. 
Many of Paz's poems look at the elements in new, and spiritual, ways.  In this poem, Paz almost creates an existential game of Rock, Paper, Scissors – debating which of the elements listed in the title have the most power in this world, and how we, as people, embody some of the elements' strengths. Like wind, we can lift each other into new opportunities, we can guide those around us. Like water, we can soothe and refresh. Like stone, we can protect, we can build, we can give shelter. Together with the elements of the natural world, we are constantly transforming and being transformed.  Paz is famous for making us look at the world in unique ways like that.  
Which of the elements do you feel yourself being shaped by? What does your impact on the world look and feel like?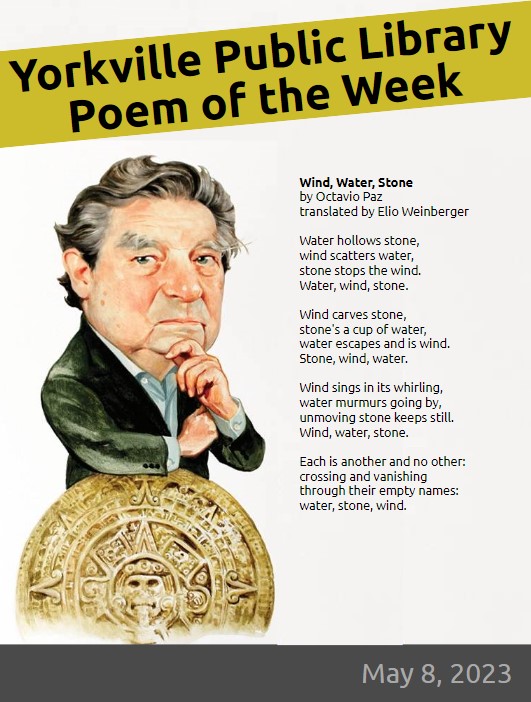 May 1, 2023 – Edward Lear
Edward Lear (1812-1888) was an English artist, illustrator, musician, author and poet, who is known mostly for his literary nonsense in poetry and prose and especially his limericks, a form he popularized.  His principal areas of work as an artist were threefold: as a draughtsman employed to make illustrations of birds and animals; making colored drawings during his journeys, which he reworked later, sometimes as plates for his travel books; and as a (minor) illustrator of Alfred, Lord Tennyson's poems.
As an author, he is known principally for his popular nonsense collections of poems, songs, short stories, botanical drawings, recipes and alphabets. 
Rather than discuss the meaning of this or any other nonsense poem, I comment that it is the function of nonsense which is important…And I mean nonsense in its best sense. Nonsense is an important way of making sense of life…a glorious freedom, in the midst of which we are close to nirvana. And while I believe children in particular feel safe and grounded with routines such as regular meals bedtimes etc. they also need creative play, and the support to imagine possibilities, even if they are not always 'sensible.'
So feel free to enjoy the silliness of the above poem without expecting a deep meaning. Lear himself, said in regard to his nonsense poems, "the critics are very silly to see politics in such bosh: not but that bosh requires a good deal of care, for it is a sine quâ non in writing for children to keep what they have to read perfectly clear & bright, & incapable of any meaning but one of sheer nonsense"
What is your all time favorite silly, nonsensical poem, song, or story?
April 24, 2023 – Anne Stevenson
Anne Stevenson (1933 –2020) was an American-British poet and writer and recipient of a Lannan Literary Award.Stevenson was the author of over a dozen volumes of poetry and books of essays and literary criticism, including two critical studies of the poet Elizabeth Bishop. Her 1989 biography of the American poet Sylvia Plath, Bitter Fame: A Life of Sylvia Plath, sparked controversy; the ordeal that Stevenson endured in writing the book and in its reception were the focus of a 1993 series of articles in The New Yorker, by Janet Malcolm, which became the book The Silent Woman.
What first draws your eye to this poem was the tunnel-like shape. This is sharpened by the contrasting final couplet. The first of the paired lines is longer than any previous line, and the second spreads itself even wider,  as a result, it looks like a tunnel that finally ends in an expanse of eye-blinking light.   The tunnel vision is made of summers, compressed by time, compressed in spite of time, so that "eating these plums now" connects quickly with "childhood's / mouth-pucker tartness" – a phrase which might not refer only to the child's sensation on tasting the plums but to childhood itself, with its unexpected jolts of the actual against the expected. The poem goes on to describe more wonders of childhoods past, present, and future – but leaves us with an abrupt ending – wondering how much time passed in this tunnel.  The poem remains a beautiful evocation of historical summers, with a hint of the future summers we're in desperate danger of losing. It's a fine memorial to Stevenson (1933-2020), a poet whose intense, delighted response to the natural world continues to enrich our "travelling senses". 
What magical childhood memories does the poem help you to remember?
April 17, 2023 – Alfred, Lord Tennyson
Alfred Tennyson, 1st Baron Tennyson (1809 – 1892) was an English poet. He was the Poet Laureate during much of Queen Victoria's reign. In 1829, Tennyson was awarded the Chancellor's Gold Medal at Cambridge for one of his first pieces, "Timbuktu". 
Although described by some critics as overly sentimental, his verse soon proved popular and brought Tennyson to the attention of well-known writers of the day, including Samuel Taylor Coleridge. Tennyson's early poetry, with its medievalism and powerful visual imagery, was a major influence on future British poets.  Much of his verse was based on classical mythological themes.  A number of phrases from Tennyson's work have become commonplace in the English language, including "Nature, red in tooth and claw", "'Tis better to have loved and lost / Than never to have loved at all", "Theirs not to reason why, / Theirs but to do and die", "My strength is as the strength of ten, / Because my heart is pure", "To strive, to seek, to find, and not to yield", "Knowledge comes, but Wisdom lingers", and "The old order changeth, yielding place to new". He is the ninth most frequently quoted writer in The Oxford Dictionary of Quotations.
"The Eagle" is one of Tennyson's shortest poems – probably the shortest of his famous poems.  The poem, among other things, is a masterpiece of syntax. The simplicity of 'he stands', two simple words concluding the first three-line stanza, perfectly captures the majesty of the bird of prey as he stands on the top of the rock, surrounded by the clear blue of the sky, seeming to stand so tall as to be in touching distance of the sun.
Have you ever spotted an animal in the wild and just had to stop to enjoy their beauty and grace?
April 10, 2023 – Caitlin Doyle
Caitlin Doyle is a poet, essayist, critic, and librettist whose work has appeared in The Guardian, The Atlantic, Yale Review, The Los Angeles Review of Books, Best New Poets, American Life in Poetry, the PBS NewsHour Online Poetry Series, and elsewhere. She has taught writing and literature at numerous American colleges and universities.
"Not It" begins with children in a backyard, about to play hide and seek. To select the child who will be "It" (the seeker), all have to cry "Not It!" The last to say these words is the one who will be "left behind / to count down in the dark / of covered eyes" while the other children disperse to find their various hiding places. 
Another "call" is an essential part of the game's ritual, and emphasizes the importance of building suspense among those who are hiding. The seeker's shout of "Ready or Not, Here I Come" gains menace in the second verse from its division into two segments, each with its inexorable-looking set of hyphens, reminiscent of the poem's spelling of hide-and-seek.
Time increasingly becomes uncontrollable: first, "day turns into night", and then, in the fifth verse, "night turns day and day turns night" as if a wheel were accelerating around the speaker (the "you"). This figure is necessarily isolated, "without a hiding spot" and "with friends to find who can't be found."  Will friends ever be found again?
What childhood games bring back the strongest memories for you?
April 3, 2023 – Robert Hayden
Robert Hayden (1913 – 1980) was an American poet, essayist, and educator. He served as Consultant in Poetry to the Library of Congress from 1976 to 1978, a role today known as US Poet Laureate. He was the first African-American writer to hold the office.
By the 1960s and the rise of the Black Arts Movement, when more youthful African-American artists composed politically and emotionally charged protest poetry, Hayden's philosophy about the function of poetry and the way he characterized himself as an author were settled.  He stayed consistent with his idea of poetry as an artistic frame instead of a polemical demonstration and to his conviction that poetry ought to, in addition to other things, address the qualities shared by mankind, including- but not solely -social injustice. 
"Those Winter Sundays" is a deceptively simple poem that highlights the sacrifices—often unseen—that parents make for their children. Written from an adult perspective, the poem sees the speaker reflecting on the parenting style of his father. He realizes that his father made sacrifices for him without expecting anything return, acting only out of love for his family. The poem thus presents parenting as selfless and often thankless work.  The family dynamic between the father and son in "Those Winter Sundays" is not especially warm, open, or close. But, the poem argues, this doesn't mean that the father isn't utterly devoted to his son's welfare. Familial love, as the speaker realizes in adulthood, can show itself in small gestures that may go unperceived by children as they grow up.
What little things did your parents do (or do you do) that go mostly unnoticed, but were/are done in love?
March 27, 2023 – Elizabeth Bishop
Elizabeth Bishop (1911 – 1979) was an American poet and short-story writer. She was Consultant in Poetry to the Library of Congress from 1949 to 1950, the Pulitzer Prize winner for Poetry in 1956, the National Book Award winner in 1970, and the recipient of the Neustadt International Prize for Literature in 1976.  Some literary critics argue that she was perhaps "the most purely gifted poet of the 20th century".
Unlike most of her contemporaries, Bishop avoided using details of stories from her personal life in her writing, so, while this poem feels like it may have a deeper personal meaning, it was written to be non-specific, so anyone could relate to the concepts.  
"One Art" asserts that, over time, we can recover from the loss of an object or even the loss of a loved one. "The art of losing isn't hard to master," the poet says; practice by losing small objects, then build up to the loss of homeland, home, and loved ones.
The key question the poem raises is this: Is the poet sincere or disingenuous? Is she deceiving herself to mask the pain of heartache? Has she really recovered from the loss of the woman she loved? Her advice—that we should practice the art of losing to prepare ourselves for a big loss—seems counterintuitive. We do lose things we treasure and people we love, but it is hard to master loss. On its surface, the theme of "One Art" is that with patience and practice, we can recover from loss. The deeper theme might be the reverse: the loss of love is a disaster for which there is little or no consolation.
Does the narrator in "One Art" really believe that any loss can be overcome, or is she deceiving herself ?
March 20, 2023 – Elizabeth Barrett Browning
Elizabeth Barrett Browning (1806 – 1861) was an English poet of the Victorian era, popular in Britain and the United States during her lifetime.  Born in County Durham, the eldest of 12 children, Elizabeth Barrett wrote poetry from the age of eleven. Her mother's collection of her poems forms one of the largest extant collections of juvenilia by any English writer.
In the 1840s, Elizabeth was introduced to literary society through her distant cousin and patron John Kenyon. Her first adult collection of poems was published in 1838, and she wrote prolifically between 1841 and 1844, producing poetry, translation, and prose. She campaigned for the abolition of slavery, and her work helped influence reform in the child labour legislation. Her prolific output made her a rival to Tennyson as a candidate for poet laureate on the death of Wordsworth.
Elizabeth's volume Poems (1844) brought her great success, attracting the admiration of the writer Robert Browning. Their correspondence, courtship, and marriage were carried out in secret, for fear of her father's disapproval. Following the wedding, she was indeed disinherited by her father. A collection of her last poems was published by her husband shortly after her death.
Elizabeth's work had a major influence on prominent writers of the day, including the American poets Edgar Allan Poe and Emily Dickinson. She is remembered for such poems as "How Do I Love Thee?" (Sonnet 43, 1845) and Aurora Leigh (1856).
What is the best thing in the world?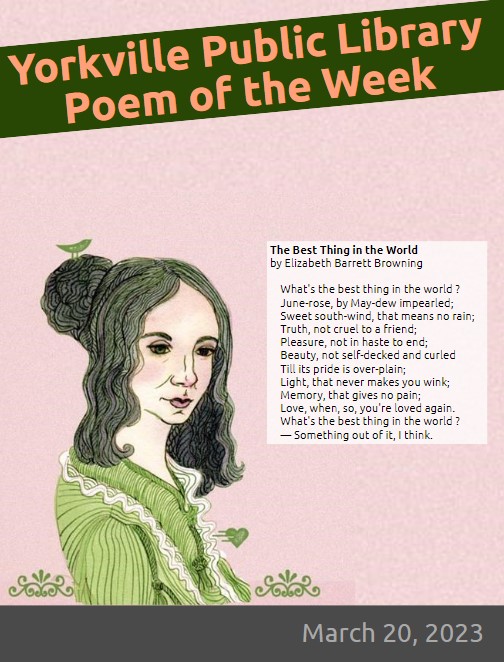 March 13, 2023 – William Butler Yeats
William Butler Yeats (1865 – 1939) was an Irish poet, dramatist, writer and one of the foremost figures of 20th-century literature. He was a driving force behind the Irish Literary Revival and became a pillar of the Irish literary establishment who helped to found the Abbey Theatre. In his later years, he served two terms as a Senator of the Irish Free State.
A Protestant of Anglo-Irish descent, Yeats was born in Ireland, but split time between Dublin and London for his education.  Many of his vacations were spent with his grandparents in County Sligo – where this poem takes place.   At early age  he became fascinated by Irish legends and the occult.
These topics feature in the first phase of his work, lasting roughly from his university days  until the turn of the 20th century. 
From 1900 his poetry grew more physical, realistic and politicized.  Many people credit his work (both poetry and theatre) for reigniting a desire for Irish writers to connect with Irish heritage, culture, language, and mythology – which had been made illegal during British rule.  
"The Lake Isle of Innisfree," on many levels, is about escaping the difficult, stressful, drab and gray everyday – perhaps what Yeats experienced in dreary London, longing for the simple life in the Irish countryside, where he could relax and listen to the birds, hear the buzz of the bees, and be alone with his thoughts.  His fame and responsibilities often took him away from where he wanted to be, but the shores of the Innisfree never stopped calling to him – even when he was too far away to actually hear them.  
What place (real or imagined) is your "get-away-from-it-all" place?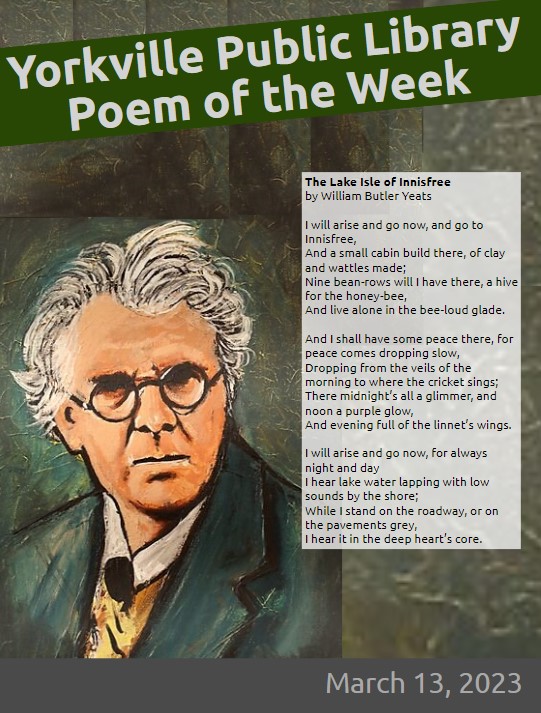 March 6, 2023 – Rita Dove
Rita Dove (1952–present) is one of the most accomplished poets of our time. An American poet and essayist, Dove was the first African American United States Poet Laureate (1993–1995) since the creation of the position in 1937. In 1987, Rita Dove was the second African American to receive the Pulitzer Prize for Poetry. Dove has received many honors and awards and continues to write some of the most insightful political and personal poetry of the modern era.
Rita Dove's writing style is personal, political, and intimate. Although she has published works in fiction and poetry, her focus remains on poetry. She primarily writes in free verse and has, on several occasions, written in narrative forms..
Dove writes with vigor and uses sensory imagery and frequent symbolism to depict the experiences of African Americans in the American political landscape. However, she did not begin writing poems on the plight of African Americans until she was in graduate school.  Once her book, The Yellow House on the Corner, was published, Dove began to employ a writing style that attempts to bring the political into a personal landscape. Her work concentrates on creative symbolism to depict difficult scenarios.
This poem, "American Smooth," probably Dove's most famous, appears to be more personal – it's is a joyful poem about two people dancing and being so lost in the music that they don't realize their feet have completely left the ground.
What was a time you were as lost in the moment as the characters in this poem are?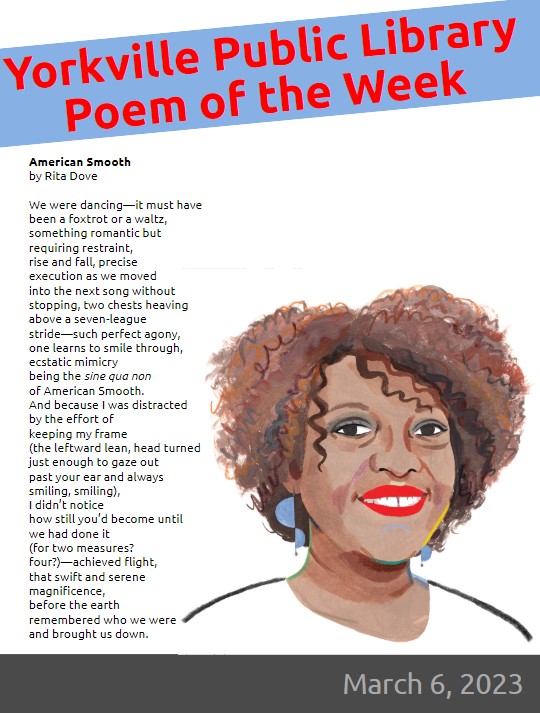 February 27, 2023 – Patricia McCarthy
Patricia McCarthy is the winner of the UK National Poetry Competition 2012. She was born in Cornwall, and brought up mainly in Ireland. After studying at Trinity College, Dublin, she lived in Washington D.C., Paris, Bangladesh, Nepal and Mexico. She now lives in East Sussex, where she taught for fifteen years at a famous girls' school. Her work has won prizes and been widely anthologized. 
"Four Seasons Gone" is the closing piece in a brand new collection of poems written about the War in Ukraine, its title pointing to the devastation which few, at the end of February 2022, expected to continue for so long. Like the other poems which speak "for the people" it focuses on hope and resilience, and in its epigraph, welcomes the "outpouring" of poetry by those who've been compelled to write by their experiences of the war. These occasional poets are the "you" the poem addresses.
To learn more about Ukrainian literature and read some poems by Ukrainian writers (translated into English), visit: 
www.poetryinternationalonline.com/ukraine-feature-words-for-war/
What do you think is the most impactful piece of literature about the horrors of war?
February 20, 2023 – Peter Baklakian
Peter Balakian (1951 – –) is an American poet, prose writer, and scholar. He is the author of many books including the 2016 Pulitzer prize winning book of poems Ozone Journal, the memoir Black Dog of Fate, winner of the PEN/Albrand award in 1998, and The Burning Tigris: The Armenian Genocide and America's Response, winner of the 2005 Raphael Lemkin Prize and a New York Times best seller. Both prose books were New York Times Notable Books. Since 1980 he has taught at Colgate University where he is the Donald M and Constance H Rebar Professor of the Humanities in the department of English and Director of Creative Writing
In many ways, "Zucchini" is a very simple poem – an incredible homage to the power of memories and the scent of food evoking them, as well as to all those who preserved a culture and sanity through cooking. On a deeper plane, it's about how food connects us to people in powerful ways – the whiff of a particular spice, the sight of single ingredient, the thought of a time long ago when we sat down for that meal… any of those things can make us feel as if we've been magically transported back to another time, or another place, and even to people who have been lost to us for decades.  
"Zucchini" is one of those poems that triggers memories for readers who've never liked or eaten zucchini, because we've all had a food memory – whether it's a birthday cake or Halloween candy or can of Spaghetti-o's or a gourmet meal – food connects us to our past in fantastic ways.  
What old family recipe magically takes you back in time?
February 13, 2023 – Fernando Pessoa
Fernando Pessoa (1888-1935) was a Portuguese poet, writer, literary critic, translator, publisher, and philosopher, described as one of the most significant literary figures of the 20th century and one of the greatest poets in the Portuguese language. He also wrote in and translated from English and French.
Pessoa was a prolific writer, and not only under his own name, for he created approximately seventy-five others characters who he would write as, of which three stand out, Alberto Caeiro, Álvaro de Campos, and Ricardo Reis. He did not call them pseudonyms because he felt that this did not capture their true independent intellectual life and instead called them heteronyms. These imaginary figures sometimes held unpopular or extreme views.
He gave each of these heteronyms a full life separate from his own, assigning each of them their psychology, emotion, and politics. The poem "I am tired" was written by Alvaro de Campos, one of Pessoa's personas. The poem fits into the third phase of Álvaro de Campos – the pessimistic – where the poet faces the reality of his life more coldly. The theme of tiredness is recurring at this stage and a topic that dominates many of Campos' poems.
While somewhat humorous and tongue-in-cheek, the poem is also quite poignant and relatable.  I'm sure many of us feel the tiredness that Pessoa/Campos describes in "I am Tired." 
Have you ever felt the level of tiredness described in this poem?
February 6, 2023 – Federico Garcia Lorca
Federico García Lorca[a] (1898 – 1936) was a Spanish poet, playwright, and theatre director. García Lorca achieved international recognition as an emblematic member of the Generation of '27, a group consisting mostly of poets who introduced the tenets of European movements (such as symbolism, futurism, and surrealism) into Spanish literature.
He initially rose to fame with Gypsy Ballads, a book of poems depicting life in his native Andalusia. His poetry incorporated traditional Andalusian motifs and avant-garde styles. After a sojourn in New York City from 1929 to 1930—documented posthumously in Poeta en Nueva York – he returned to Spain and wrote his best-known plays, Blood Wedding (1932), Yerma (1934), and The House of Bernarda Alba (1936).
This poem takes place in a dream like world, and right off the bat, the narrator tells us how much they like the color green.  Soon, there is a green skinned, green haired woman – and she must be beautiful, because the narrator loves green.  As the poem goes on, we get a sense that the man wants to return home – maybe to the green lady – after a long time wandering.  He hopes to trade the life he has for the one he wants – maybe with her.  He hopes he can make it home before he dies, but suddenly he is injured gravely and may not make it.  
So much of this poem seems to mirror aspects of the poet's real life in Spain in the tumultuous years leading up to the Spanish Civil War.  In reality, Federico Garcia Lorca never made it home to the green lady.  He was abducted and assassinated by Nationalist forces early in the War.  Many historians cite this poem as one of the reasons Lorca was targeted.  He was 38 years old. 
What is your favorite piece of literature set within a dream?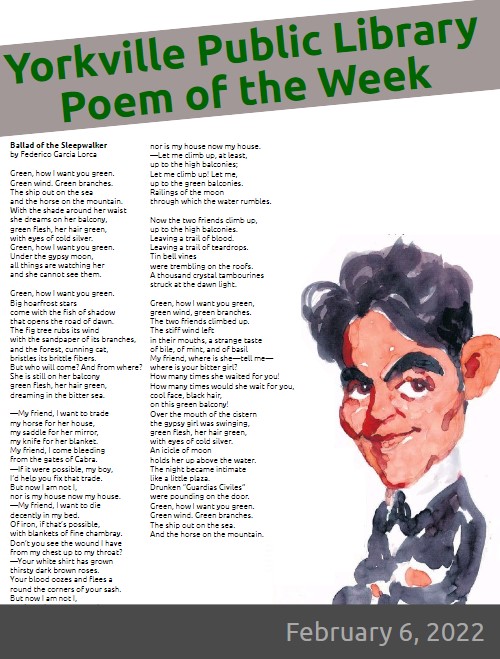 January 30, 2023 – Pablo Neruda
Pablo Neruda (1904 – 1973), was a Chilean poet-diplomat and politician who won the 1971 Nobel Prize in Literature. Neruda became known as a poet when he was 13 years old, and wrote in a variety of styles, including surrealist poems, historical epics, overtly political manifestos, a prose autobiography, and passionate love poems such as the ones in his collection Twenty Love Poems and aSong of Despair.
Neruda occupied many diplomatic positions in various countries during his lifetime and served a term as a Chilean senator.  His views and poems were popular with the people, but not always with his political opponents.  In 1948, President Gabriel González Videla  issued a warrant for Neruda's arrest.  Friends hid him for months in their basement, and in 1949 he escaped into Argentina; he would not return to Chile for years.  While out of the country, Neruda continued to write and work to fight injustice in his own country and worldwide. 
"Ode to My Socks" is one of Neruda's more light-hearted poems.  He wrote dozens of odes to small things – tomatoes, lemons, soup, corn, books… to point out how much the things we don't think about really do matter a great deal. 
What is one thing that you can't live without that other people undervalue?
January 23, 2023 – Danusha Laméris
Danusha Laméris is a poet, teacher, and essayist. She is the author of The Moons of August, which was chosen by Naomi Shihab Nye as the winner of the Autumn House Press poetry prize and was a finalist for the Milt Kessler Book Award. Some of her poems have been published in: The Best American Poetry, The New York Times, and The American Poetry Review.Her second book, Bonfire Opera, was a finalist for the Paterson Poetry Prize, and winner of the Northern California Book Award in Poetry.
Laméris is an American poet born to a Dutch father and a Caribbean mother from the island of Barbados. She was raised in the California Bay Area, spending her early years in Mill Valley, then moving to Berkeley, where she attended The College Preparatory School.
This poem, "Feeding the Worms," is a fun opportunity to flip perspectives around a little bit.  Instead of thinking of worms as icky and yucky little garbage disposals in her compost bins, the narrator sees their side of things – changing the way she looks at, and treats the worms, even going so far as to changing her own behaviors and seeking ways to make the lives of the worms better and more enjoyable…  then, with a little twist at the end, the poet sneaks in a little glimpse of mortality and what all of our relationships to the worms may someday be.  
What's another piece of literature about changing perspectives and seeing something in a whole new light?
January 16, 2023 – John Clegg
John Clegg (1986 – –) is an English bookseller and poet.  He has won several prizes for his poetry.  This poem was written up in The Guardian.   Clegg has published three collections of his poetry – Antler (2012), Holy Toledo! (2017), and Aliquot (2022).  
The poem is about one of those blink and you miss it moments, or it could be a joke about how our minds wander sometimes at key moments.  The poem's title suggests the limited perspective of a newspaper headline, but the poem itself goes into detail – relaying a story that could be a parody, a true story, or a funny anecdote.  Clegg doesn't make it clear how he wants us to interpret the piece.  
In the middle of the poem, the narrator, a schoolteacher, gives a light-hearted commentary on the various levels of concentration amongst his students – acknowledging, with a wink, that he knows that sometimes the work teachers dole out is boring and doesn't capture our imagination.  Even the teacher's mind has wandered – and he's looking out the window, where he either witnesses or just misses witnessing a lime tree in the school yard struck by lightening.  
The poet, and the schoolteacher, leave it up to you to decide what the truth is, as well as any consequences for what's happened.  
What's your greatest blink-and-you-miss-it moment?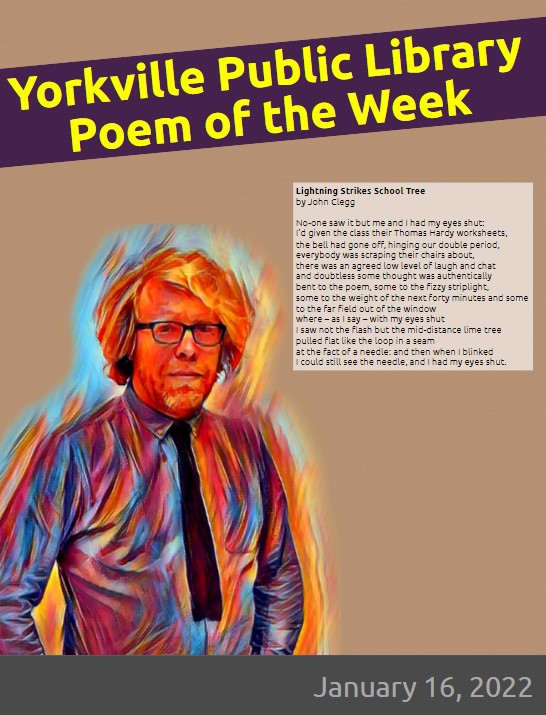 January 9, 2023 – Thomas Hardy
Thomas Hardy (1840 -1928) was an English novelist and poet.  A Victorian realist, he was influenced both in his novels and in his poetry by Romanticism, a literary style characterized by its emphasis on emotion and individualization, idealization of nature, suspicion of industrialization, and glorification of the past.   While Hardy wrote poetry throughout his life and regarded himself primarily as a poet, his first collection was not published until 1898.  Initially, he gained fame as the author of novels such Tess of the d'Urbervilles (1891) and Jude the Obscure. 
Many Romantics wrote about beauty in nature, and this poem is no different.  Some of Hardy's best writing is in the descriptions of the birds in this poem – their movements, sidling and fluttering, are beautifully captured in stanza three, played off against the stasis of "the slatestone ledge" and the distant sea with its "metal shine".
However, this poem isn't about nature or the birds.  It's about the person in the poem and the harm he has caused himself through not being alive to the moment.  It's more tragic than just missing a single moment, as Hardy supposes that missing a key, magical instant in time may be the same as missing an opportunity for epiphany, change, growth,  and missing these moments in nature are really about missing the opportunity to fulfill your own destiny. As many of us have recently made New Year's resolutions about being more mindful, what does that mean?  Maybe Hardy's poem is a great reminder of how we need to focus outwardly more often, be aware, and see the opportunities the world is presenting to us.  Then again, maybe it's just about pretty birds.
What helps you remain mindful of the moment?
January 2, 2023 – Robert Burns
Robert Burns (1759 – 1796) was a Scottish poet and lyricist. He is widely regarded as the national poet of Scotland and is celebrated worldwide. 
He is regarded as a pioneer of the Romantic movement, and after his death he became a great source of inspiration and a cultural icon in Scotland. Celebration of his life and work became almost a national charismatic cult during the 19th and 20th centuries, and his influence has long been strong on Scottish literature. In 2009 he was chosen as the greatest Scot by the Scottish public in a vote run by Scottish television channel STV.
As well as making original compositions, Burns also collected folk songs from across Scotland, often revising or adapting them. His poem (and song) "Auld Lang Syne" is often sung at Hogmanay (the last day of the year), and "Scots Wha Hae" served for a long time as an unofficial national anthem of the country.  "Auld Lang Syne" is a popular song, particularly in the English-speaking world. Traditionally, it is sung to bid farewell to the old year at the stroke of midnight on New Year's Eve. By extension, it is also often heard at funerals, graduations, and as a farewell or ending to other occasions; for instance, many branches of the Scouting movement use it to close jamborees and other functions.
The song begins by posing a rhetorical question: Is it right that old times be forgotten? The answer is generally interpreted as a call to remember long-standing friendships. Alternatively, "Should" may be understood to mean "if" (expressing the conditional mood) referring to a possible event or situation.
As we move into the new year, what's your best memory of 2022?
December 26, 2022 – Stephen Crane
Stephen Crane (1871 – 1900) was an American poet, novelist, and short story writer. Prolific throughout his short life, he wrote notable works in the Realist tradition as well as early examples American Naturalism and Impressionism.  He is recognized by modern critics as one of the most innovative writers of his generation.  Crane's first novel was the 1893 Bowery tale Maggie: A Girl of the Streets, generally considered by critics to be the first work of American literary Naturalism. He won international acclaim in 1895 for his Civil War novel The Red Badge of Courage, which he wrote without having any battle experience.
We thought this poem was kind of a perfect message heading into the new year.  Crane's untitled poem (usually just referred to by the poem's first line) is about those people in your life that just bring you down – the negative influences – the naysayers.  Going into the New Year, we hope you have the mindset of the poem's other character, who doesn't let other people's lack of belief hold them back.
So, whatever your dream for the New Year – write that novel that's been in your head, get into a good exercise routine, work out a personal budget and get your finances in order, pursue that dream job/career… go for it.   Pursue the horizon you've been gazing out at, and if anyone or anything stands in your way, run on.  Live that dream in the new year.
Maybe we have some books or programs that will help you get started, so join us at the library in 2023 and let us help you pursue that horizon!
What is the horizon you're pursuing?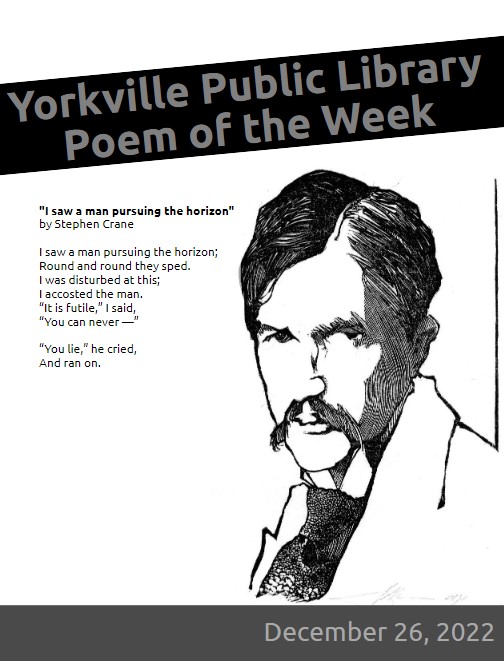 December 17, 2022 – Henry Wadsworth Longfellow
Henry Wadsworth Longfellow (1807 – 1882) was an American poet and educator.  He  was one of the fireside poets from New England, born in Portland, Maine. He graduated from Bowdoin College and became a professor there and at Harvard. His first major poetry collections were Voices of the Night (1839) and Ballads and Other Poems (1841). He retired from teaching in 1854 to focus on his writing, and lived the remainder of his life in the Revolutionary War headquarters of George Washington.
Longfellow wrote many lyric poems known for their musicality and often presenting stories of mythology and legend.  He was the most popular poet of his day, widely read both in the US and Europe. His first wife, Mary, died in 1835 after a miscarriage.  Two years before he wrote the poem "Christmas Bells," his life was shaken by tragedy again. His second wife, Fanny, lost her life when her dress caught fire and she died from severe burns the following day. Longfellow was devastated and as he grieved the death of his wife the Civil War raged around him.
Soon after, he learned that his son Charles had joined the Union Army without his blessing.   A few months later, Longfellow received a telegram that his son had been severely wounded during the Battle of New Hope Church.  Charles was fighting for his life after a bullet entered his left shoulder and damaged his spine.  Still mourning for his wife, and uncertain of his son's recovery, Longfellow sat down at his desk on Christmas morning, 1863, and penned the poem "Christmas Bells." Seven years later his poem would be set to music and become the Christmas carol we know today. The first and last few verses of the song refer directly to the national tragedy of the Civil War. 
What is your favorite holiday song?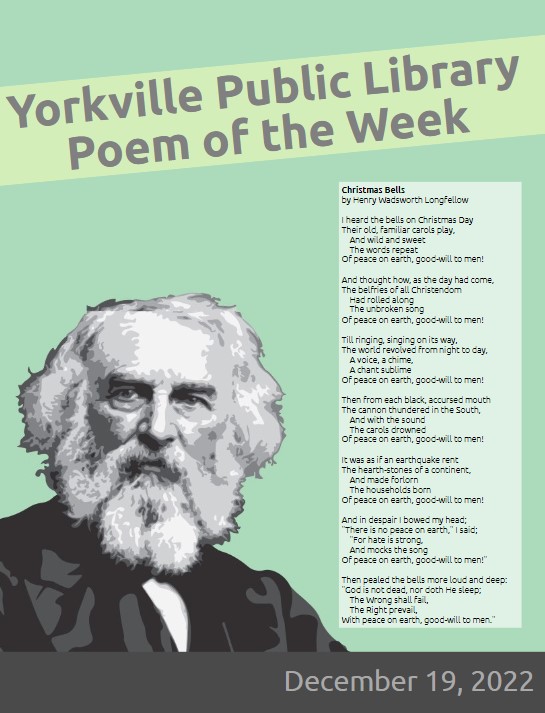 December 12, 2022 – Kathleen Jamie
Kathleen Jamie (1962 – –) is a Scottish poet and essayist.  In 2021 she became Scotland's fourth Makar, also known as the National Poet of Scotland.  Raised in Currie, near Edinburgh, she studied philosophy at the University of Edinburgh, publishing her first poems as an undergraduate. Her writing is rooted in Scottish landscape and culture, and ranges through travel, women's issues, archaeology and visual art. She writes in English and occasionally in Scots.
Jamie's collections include The Queen of Sheba (1995). Her 2004 collection The Tree House revealed an increasing interest in the natural world. This book won the Forward Poetry Prize and the Scottish Book of the Year Award.  The Overhaul was published in September 2012, winning the 2012 Costa poetry award.  Her collections of essays Findings and Sightlines are considered influential works of nature and landscape writing.
In 2014, Jamie set herself the task of writing one poem per week. The resulting poems were collected in The Bonniest Companie, released in 2015, winning 2016 Saltire Society book of the year award.
This poem, "The Dipper" paints a picture of freedom and concealed connectivity in the natural world.  In the poem, the speaker – maybe the poet herself – walks through the winter woods, looking for a muse.  A songbird, unable to sing, like this poet is unable to find words, opens the door to unseen/unheard treasures if you're looking closely enough. 
What's the best place in our area to take a winter walk?
December 5, 2022 – Emily Brontë
Emily Brontë (1818 – 1848) was an English novelist and poet who is best known for her only novel, Wuthering Heights, now considered a classic of English literature.  She also published a book of poetry with her sisters Charlotte and Anne, titled Poems by Currer, Ellis and Acton Bell with her own poems finding regard as poetic genius.  Emily was the second-youngest of the four surviving  Brontë siblings, between the youngest Anne and her brother Branwell.  Because it was difficult for female writers to be taken seriously, she published under the male pen name Ellis Bell.
While three Brontë siblings have had lasting fame for their writing, their lives were terribly sad and filled with tragedy.  Their mother passed away when Emily was only three, then five years later her two oldest sisters, Maria (11) and Elizabeth (10), died of typhoid.  Their aunt, who helped raise them, also died very young, and Branwell suffered throughout his short live with drug and alcohol addition.  
This poem, "Spellbound" can be read in many ways, but several literary critics believe it is about the lack of control that Emily (and her surviving family) must have felt watching everyone they loved die so young.  Emily herself only lived to age 30 (Anne died at 29 shortly after, while Charlotte lived to 38).  
The part of this poem that strikes me so much is the slight change in the poem's 4th, 8th, and 12th lines.   
What do you think is the best piece of literature about control?
November 28, 2022 – John Donne
John Donne (1572-1631) was an English poet, scholar, soldier, and secretary born into a recusant family, who later became a cleric in the Church of England. Under royal patronage, he was made Dean of St Paul's Cathedral in London. He is considered the preeminent representative of the metaphysical poets. His poetical works are noted for their metaphorical and sensual style.
Donne's style is characterized by abrupt openings and various paradoxes, ironies and dislocations. These features, along with his frequent dramatic or everyday speech rhythms, were reactions against conventional Elizabethan poetry.  His early career was marked by poetry that bore immense knowledge of English society. Another important theme in Donne's poetry is the idea of true religion, something that he spent much time considering and about which he often theorized.  
Despite his great education and poetic talents, Donne lived in poverty for several years, relying heavily on wealthy friends. "No Man is and Island" is a reminder that fits very well into the holiday season – in the poem, Donne argues that every human being is connected to every other human being by comparing humanity itself to a vast landmass. No one is "an island" in the sense that no one is separate from this metaphorical "continent"; just by being human, everyone is part of humanity.  It fits in nicely with the African concept of Ubuntu – "I am human because you are human" and all of our experiences (good and bad) impact one another in some way. 
Who do you rely on most during the holiday season
November 21, 2022: Shel Silverstein
Shel Silverstein (1930 – 1999) was an American writer, poet, cartoonist, songwriter, and playwright. Born and raised in Chicago, Silverstein is best known for his children's books, but he didn't limit his audience to kids.  Much of his early work, in the mid 1950s, is made up of cartoons published in newspapers and magazines around the country, notably the adult-oriented Playboy. He also wrote a satirical, adult-oriented alphabet book, Uncle Shelby's ABZ Book, under the pseudonym "Uncle Shelby."
As a children's author, his most beloved work includes The Giving Tree, Where the Sidewalk Ends, and A Light in the Attic. His poetry has been translated into more than 47 languages and has sold more than 20 million copies.  Silverstein wrote many hit songs as well, including the 1969 Johnny Cash track "A Boy Named Sue."  A true Renaissance Man, Silverstein was not only a best selling author, he was won two Grammy Awards as well as nominations at the Golden Globe Awards and Academy Awards.
Silverstein's children's poetry for children is often silly, funny, and a little weird  He illustrated his own work with an incredibly recognizable black-and-white  style of illustrations that are both amusing and morbid, but are often a vital piece of the poems, often necessary in order to understand the poem itself.   Some believe it is simply amusing and fun; others contend that the silliness hides deeper symbolism, which may be the biggest attribute to Silverstein's work and allows it to be enjoyed by people of all ages, and seen by many in new ways when they read it at different times of their life.  
What is your all-time favorite Shel Silverstein piece?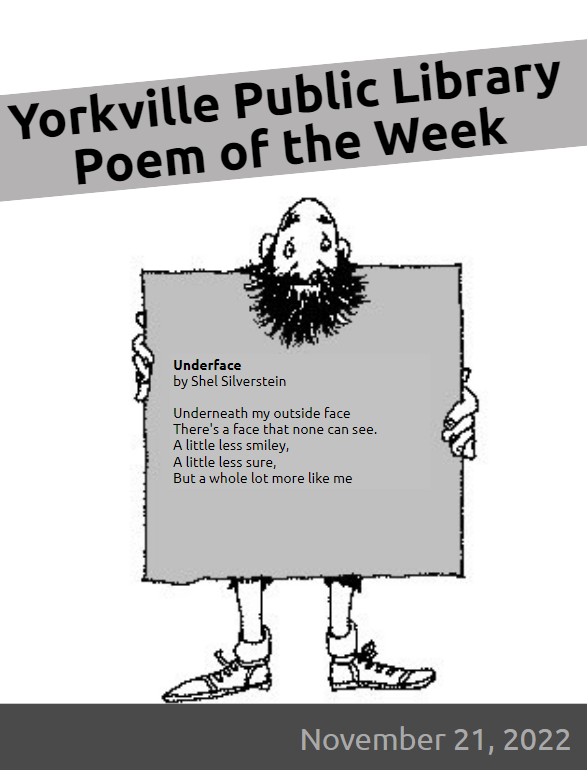 November 14, 2022: Carol Ann Duffy
Carol Ann Duffy (1955 – –) is a Scottish poet and playwright. She is a professor of contemporary poetry at Manchester Metropolitan University, and was appointed Poet Laureate in May 2009, resigning in 2019. She was the first female poet, the first Scottish-born poet, and the first openly gay poet to hold the Poet Laureate position.
In this poem, "Text," things seem pretty straight forward, and they mostly are.  The poem (which is just another form of text) is about how the poet/texter has been unable to get her message across to the textee.  Several moments in the poem are intentionally left ambiguous – for example, is the injured bird the phone itself, an object that we all tend to take extra special care of – or is it the woman and her state of emotion?  
Each of the seven couplets of 'Text' ends on a rhyme – or false rhyme – of bird, words, third, absurd, chord, blurred, heard. This lends the poem a sense of repetition, like someone constantly checking for new texts. The one rhyme that misses is 'broken chord', which in a super meta moment is the broken chord of the poem. 
That last couplet is another fun play on words.  Text messages aren't meant to be heard – but we don't know for sure if the texter/poet is saying that the words aren't heard as in they aren't aloud, or if there is a deeper meaning in that they won't be understood at all.  All in all, Duffy has fun with words and the evolution of language and communication that comes with "advances" in technology.
What is the best piece of literature you've ever read about the dangers of technology?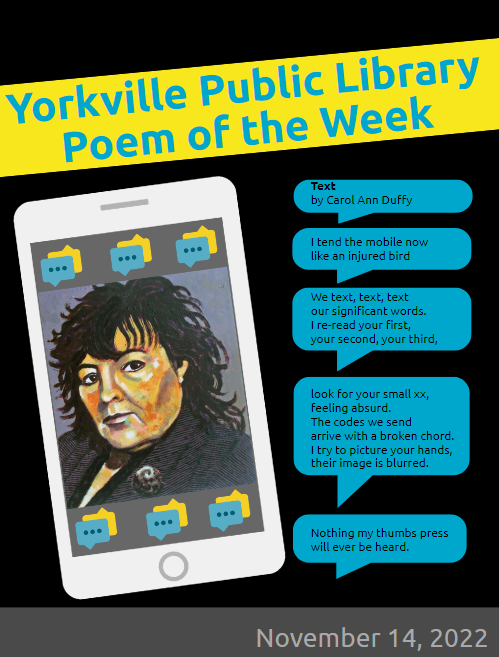 November 7, 2022: Robert Gibb
Robert Gibb (1946 – –) is an American poet.  Gibb won the 1997 National Poetry Series Open Competition for The Origins of Evening. It, along with his next two books, comprise what Gibb calls The Homestead Trilogy, a nearly 100-poem cycle probing the fading industrial history and culture of America's Steel City.
He was born to a family of steelworkers in Homestead, Pennsylvania, a mill town six miles south of downtown Pittsburgh along the Monongahela River. The town was home to Andrew Carnegie's famous Homestead Steel Works and site of the infamous Homestead Strike.  
A lot of Gibb's poetry is about deeper looks at nature, maybe things we glance past if we don't take a moment and try to focus on the little things.  "For the Chipmunk in My Yard" is a deeper look at the life of a chipmunk in Gibb's yard – that's pretty straight forward – but we rarely focus on where a chipmunk, squirrel, rabbit, bird, coyote… is before we notice it in the yard, where it's going, what the rest of its day, night, life is like beyond those moments that it's right there in front of us.  Gibb invites us to think about the world in that wider perspective – we know our neighbor when we wave and smile out by the mailbox, but maybe we don't know what goes on with the rest of their day.  We come across cashiers and waiters and fellow drivers on the road, but we typically only think about them in the context of when their lives intersect ours.  Gibb offers us a chance to consider more.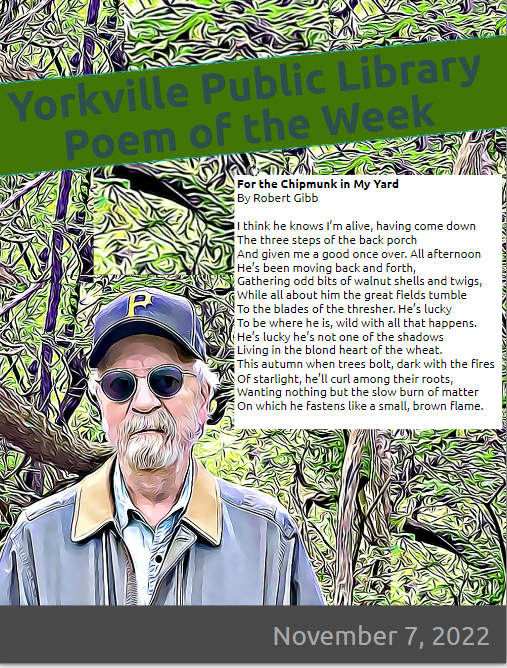 What is the best nature book (or poem) you've ever read?
October 31, 2022: Margaret Atwood
Margaret Atwood (1939 – –) is a Canadian poet, novelist, literary critic, essayist, teacher, environmental activist, and inventor.  Since 1961, she has published 18 books of poetry, 18 novels, 11 books of non-fiction, nine collections of short fiction, eight children's books, and two graphic novels, and a number of small press editions of both poetry and fiction. Atwood has won numerous awards and honors for her writing, including two Booker Prizes, the National Book Critics, and PEN Center USA Lifetime Achievement Awards.  A number of her works have been adapted for film and television.
Atwood's works encompass a variety of themes including gender and identity, religion and myth, the power of language, and "power politics".  
This poem, "Hesitations Outside the Door",  is a simple yet powerful poem that conveys many themes that Atwood is fond of writing about. In this narrative piece, the speaker depicts her life through the image of an imaginary door. On her side, is her life of domesticity and on the other, presumably, is one of greater freedom. In the short lines of this poem, the speaker describes her inability to open a door with the right "key" or "lie". She continues to lie, but they are the "wrong lies". This suggests that she is lying to herself in a way that is not benefiting her place in the world she's been unable to open the door and knows that something needs to change in order for her to do so. She's longing to escape from "the kitchen."
What is the best piece of literature about someone who feels trapped?
October 24, 2022: Wendell Berry
Wendell  Berry (1934 – –) is an American novelist, poet, essayist,  environmental activist, cultural critic, and farmer.  He is an elected member of the Fellowship of Southern Writers, a recipient of The National Humanities Medal, and a 2013 Fellow of The American Academy of Arts and Sciences.  On January 28, 2015, he became the first living writer to be inducted into the Kentucky Writers Hall of Fame.
Berry's lyric poetry often appears as a contemporary eclogue, pastoral, or elegy; but he also composes dramatic and historical narratives.   Fellow poet and literary professor, Lionel Basney placed Berry's poetry within a tradition of didactic poetry that stretches back to Horace: "To say that Berry's poetry can be didactic, then, means that it envisions a specific wisdom, and also the traditional sense of art and culture that gives art the task of teaching this wisdom. For Berry, poetry exists at the center of a complex reminding. Both the poet and the reader are reminded of the poem's crafted language, of the poem's formal literary antecedents, of "what is remembered or ought to be remembered," and of "the formal integrity of other works, creatures and structures of the world."
This poem, "The Peace of Wild Things" is a reminder that there is a healing power to nature – to getting out into the woods, up into the mountains, or alongside a meandering stream that will help reset your mind, heart, and spirit in magical ways.
Where is the place that you go to get away from it all and hit the reset button when life gets too life-y?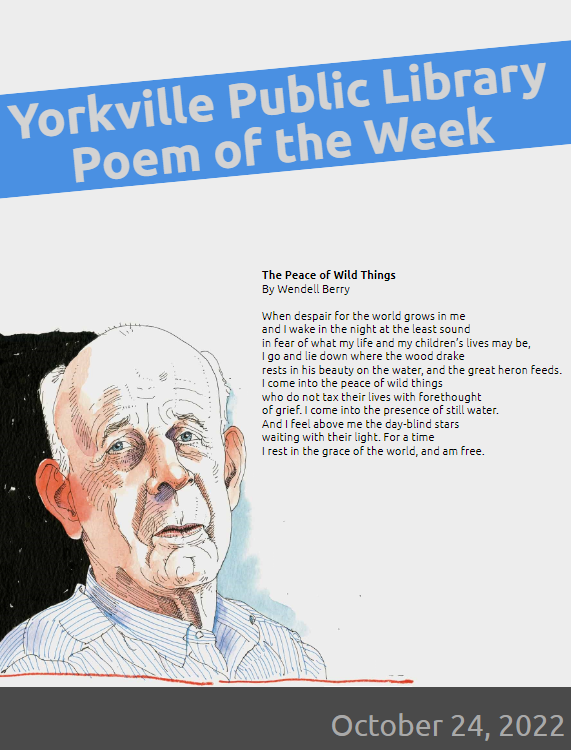 October 17, 2022: Billy Collins
Billy Collins (1941 – –) is an American poet, appointed as Poet Laureate of the United States from 2001-2003.  He is a Distinguished Professor at Lehman College of the City University of New York (retired, 2016). Collins was recognized as a Literary Lion of the New York Public Library (1992) and selected as the New York State Poet for 2004 through 2006. 
Collins was born in Manhattan and grew up in Queens and White Plains. His father. a Wall Street worker who Collins credits as in inspiration for his sense of humor, was from Ireland and his mother came from Canada.  Mrs. Collins had the ability to recite verses on almost any subject, which she often did, and cultivated in her young son the love of words, both written and spoken. 
Collins is known for a distinct style that's simple and unpretentious, usually free verse, with no rhyme scheme, rhythm, or  format. He's best known for writing about  small things, amplifying as if they are very important, sometimes in a humorous way.
This poem, "Introduction to Poetry" is a humorous look at poetry itself, and how we sometimes we look for too hard for deeper meaning in a piece of literature – oftentimes missing the true point.
What piece of literature have you read that got better one the over-analyzing stopped and you really got to enjoy it?
October 10, 2022: Natasha Threthewey
Natasha Trethewey (1966 – –) is an American poet who was born in Mississippi, but shortly after her birth, the family moved to Ohio, because her parents' marriage was considered illegal in their home state.  Her father, Canadian poet Eric Trethewey, and her mother, a social worker, divorced when she was very young, but much of Trehewey's poetry comes from her culture and personal experiences – racial inequities, injustices, and personal pain have driven her writing. When Trethewey was 19, her mother was murdered by her second husband, and it was this moment in her life that Trethewey began to feel poetry might be able to help here make sense of what had happened.  '
Structurally, her work combines free verse with more structured, traditional forms such as the sonnet and the villanelle. Thematically, her work examines "memory and the racial legacy of America".  Trethewey's first published collection, Domestic Work (2000), was the inaugural recipient of the Cave Canem prize for a first book by an African American poet.
This poem, "Housekeeping" takes place in Trethewey's childhood home, while her father was away serving in the Canadian Navy.  It's about the comfort and peace we find in small things in our lives – and how they help us connect to the people (or things) that are missing in our lives or to the places we just don't want to forget.
What seemingly small and insignificant thing holds a great deal of meaning to you?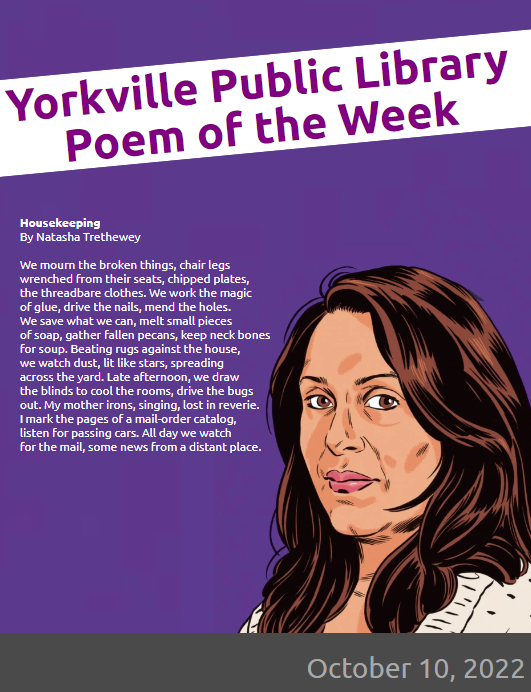 October 3, 2022: Joy Harjo – Invisible Fish
Joy Harjo (1951 – –) is an American poet, musician, playwright, and author. She served as the 23rd United States Poet Laureate, the first Native American to hold that honor. She was also only the second Poet Laureate Consultant in Poetry to have served three terms. Harjo is a member of the Muscogee Nation (Este Mvskokvlke) and belongs to Oce Vpofv (Hickory Ground).  She is an important figure in the second wave of the literary Native American Renaissance of the late 20th century. 
"Invisible Fish" is one of those poems that has readers torn as to how to interpret it.  While there are probably a gazillion meanings you could apply to writing like this, most literary people analyze it in one of two ways.
First, this poem can be interpreted as an attempt from the author to give us a different perspective about the way modern society lives.  "Invisible Fish" seems to claim that humans no longer dream about bigger, better things for humanity as a whole – and that does seem like a very negative view to take.  Some scholars, though, read the poem as a sort of reverse psychology call to arms… maybe getting readers to say to themselves (or to the narrator), "hey, what do you mean we don't dream about bigger and better???  Hold my beer… I'm about to do something great."
Then again, maybe she is being negative.  Maybe she does believe mankind's greatest accomplishments are in our past.  What do you think she's saying?
Has a piece of literature ever inspired you to do something awesome?
September 26, 2022: Garrett Hongo – The Legend
Garrett Hongo (1951- –) is an American poet and academic born in Hawaii.  His work often draws upon his Japanese ancestry, Japanese-American history, and his own experiences as an Asian American.  He was a finalist for the Pulitzer Prize in Poetry in 1980.
"The Legend" is a narrative poem inspired by a news program Hongo watched, bewildered and disgusted that the victim of the callous shooting was so casually dismissed, as if, because he was Asian, he was less than human and his life/death mattered less.  The poem features many of the themes most important to Hongo – troubles that immigrants in America face, questioning one's own ethnic identity, the division between Asian and Western cultures – as well as alienation and violence in America's cities.
Throughout the poem, Hongo tries to give character and humanity to the man, providing details about who he was and what he was doing – making an effort to make the poem about the man – whereas the news story was about the criminal.  Interestingly, Hongo never names the man – nor does he know his exact ethnicity – but he knows artists and philosophers and the names of specific makes of cars… Anonymity, alienation, and identity are important themes in the poem, and are key concepts Hongo wants you to keep considering long after you've read.  
September 19, 2022: Langston Hughes – So Tired Blues
Langston Hughes (1901 – 1967) was an American poet, social activist, novelist, playwright, and columnist from Joplin, Missouri. One of the earliest innovators of the literary art form called jazz poetry, Hughes is best known as a leader of the Harlem Renaissance. 
Growing up in a series of Midwestern towns, Hughes became a prolific writer at an early age. He moved to New York City as a young man, where he made his career.   Although he dropped out of Columbia University, he gained notice from New York publishers, first magazines and then book publishers, and became known in the creative community in Harlem.
When we look back at Hughes' work, we can't help but notice that many of his poems were written in a free-form style – loose, light, almost like improvisational jazz music.  The poets and writers of Harlem and the jazz musicians of that time and place are almost interchangeable, with the two art forms sharing voice and style in so many ways.
In this poem, "So Tired Blues," Hughes also seems to borrow from blues music's rhythm and style – if you read it at just the right pace, you can almost picture an old blues guitarist up on stage, sunglasses on, their hat pulled low – singing these lyrics with a cool blues guitar riff playing between the lines.  Like blues, I feel like a lot of us can relate to Hughes words – just wanting the day to speed up sometimes, so we can hurry up and get to the part where we get to put our feet up and relax.  
Since we can't stop singing "So Tired Blues" like we're in Buddy Guy's club in Chicago, it leads us to the question: What other pieces of literature do you think connect really well with music?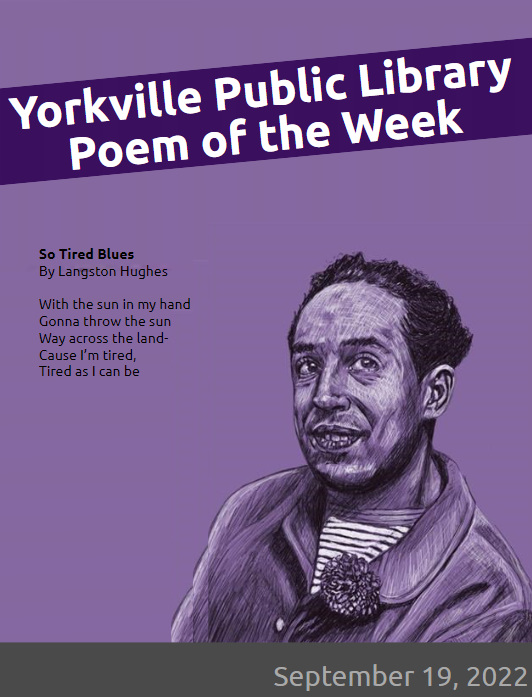 September 12, 2022: Ogden Nash – A Word to Husbands
Ogden Nash (1902 – 1971) was an American poet well known for his light verse, of which he wrote over 500 pieces. With his unconventional rhyming schemes, he was declared by The New York Times the country's best-known producer of humorous poetry.  Nash was best known for surprising, pun-like rhymes, sometimes with words deliberately misspelled for comic effect, as in his retort to Dorothy Parker's humorous dictum, Men seldom make passes / At girls who wear glasses:
          A girl who's bespectacled
          May not get her nectacled
In this example, the word "nectacled" sounds like the phrase "neck tickled" when rhymed with the previous line.
Sometimes the words rhyme by mispronunciation rather than misspelling, as in:
         Farewell, farewell, you old rhinoceros,
         I'll stare at something less prepoceros
The poem "A Word to Husbands" is a fun example of Nash's work, and may just be great advice sometimes. It makes us ask the question: What's the best piece of advice you've ever gotten from a piece of literature?