February 6, 2023 – Federico Garcia Lorca
Federico García Lorca[a] (1898 – 1936) was a Spanish poet, playwright, and theatre director. García Lorca achieved international recognition as an emblematic member of the Generation of '27, a group consisting mostly of poets who introduced the tenets of European movements (such as symbolism, futurism, and surrealism) into Spanish literature.
He initially rose to fame with Gypsy Ballads, a book of poems depicting life in his native Andalusia. His poetry incorporated traditional Andalusian motifs and avant-garde styles. After a sojourn in New York City from 1929 to 1930—documented posthumously in Poeta en Nueva York – he returned to Spain and wrote his best-known plays, Blood Wedding (1932), Yerma (1934), and The House of Bernarda Alba (1936).
This poem takes place in a dream like world, and right off the bat, the narrator tells us how much they like the color green.  Soon, there is a green skinned, green haired woman – and she must be beautiful, because the narrator loves green.  As the poem goes on, we get a sense that the man wants to return home – maybe to the green lady – after a long time wandering.  He hopes to trade the life he has for the one he wants – maybe with her.  He hopes he can make it home before he dies, but suddenly he is injured gravely and may not make it.  
So much of this poem seems to mirror aspects of the poet's real life in Spain in the tumultuous years leading up to the Spanish Civil War.  In reality, Federico Garcia Lorca never made it home to the green lady.  He was abducted and assassinated by Nationalist forces early in the War.  Many historians cite this poem as one of the reasons Lorca was targeted.  He was 38 years old. 
What is your favorite piece of literature set within a dream?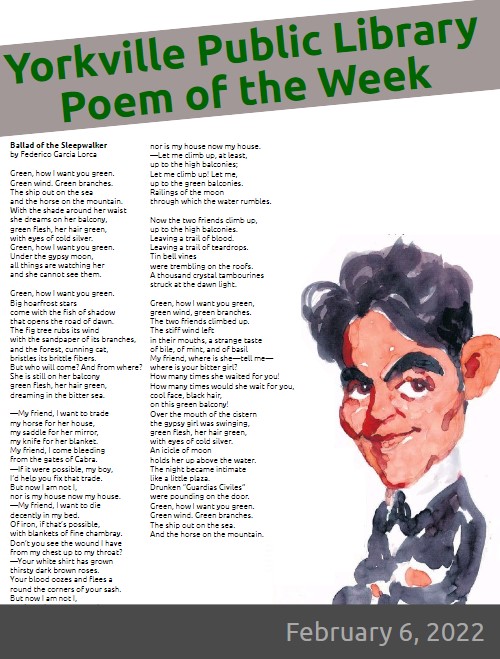 January 30, 2023 – Pablo Neruda
Pablo Neruda (1904 – 1973), was a Chilean poet-diplomat and politician who won the 1971 Nobel Prize in Literature. Neruda became known as a poet when he was 13 years old, and wrote in a variety of styles, including surrealist poems, historical epics, overtly political manifestos, a prose autobiography, and passionate love poems such as the ones in his collection Twenty Love Poems and aSong of Despair.
Neruda occupied many diplomatic positions in various countries during his lifetime and served a term as a Chilean senator.  His views and poems were popular with the people, but not always with his political opponents.  In 1948, President Gabriel González Videla  issued a warrant for Neruda's arrest.  Friends hid him for months in their basement, and in 1949 he escaped into Argentina; he would not return to Chile for years.  While out of the country, Neruda continued to write and work to fight injustice in his own country and worldwide. 
"Ode to My Socks" is one of Neruda's more light-hearted poems.  He wrote dozens of odes to small things – tomatoes, lemons, soup, corn, books… to point out how much the things we don't think about really do matter a great deal. 
What is one thing that you can't live without that other people undervalue?
January 23, 2023 – Danusha Laméris
Danusha Laméris is a poet, teacher, and essayist. She is the author of The Moons of August, which was chosen by Naomi Shihab Nye as the winner of the Autumn House Press poetry prize and was a finalist for the Milt Kessler Book Award. Some of her poems have been published in: The Best American Poetry, The New York Times, and The American Poetry Review.Her second book, Bonfire Opera, was a finalist for the Paterson Poetry Prize, and winner of the Northern California Book Award in Poetry.
Laméris is an American poet born to a Dutch father and a Caribbean mother from the island of Barbados. She was raised in the California Bay Area, spending her early years in Mill Valley, then moving to Berkeley, where she attended The College Preparatory School.
This poem, "Feeding the Worms," is a fun opportunity to flip perspectives around a little bit.  Instead of thinking of worms as icky and yucky little garbage disposals in her compost bins, the narrator sees their side of things – changing the way she looks at, and treats the worms, even going so far as to changing her own behaviors and seeking ways to make the lives of the worms better and more enjoyable…  then, with a little twist at the end, the poet sneaks in a little glimpse of mortality and what all of our relationships to the worms may someday be.  
What's another piece of literature about changing perspectives and seeing something in a whole new light?
January 16, 2023 – John Clegg
John Clegg (1986 – –) is an English bookseller and poet.  He has won several prizes for his poetry.  This poem was written up in The Guardian.   Clegg has published three collections of his poetry – Antler (2012), Holy Toledo! (2017), and Aliquot (2022).  
The poem is about one of those blink and you miss it moments, or it could be a joke about how our minds wander sometimes at key moments.  The poem's title suggests the limited perspective of a newspaper headline, but the poem itself goes into detail – relaying a story that could be a parody, a true story, or a funny anecdote.  Clegg doesn't make it clear how he wants us to interpret the piece.  
In the middle of the poem, the narrator, a schoolteacher, gives a light-hearted commentary on the various levels of concentration amongst his students – acknowledging, with a wink, that he knows that sometimes the work teachers dole out is boring and doesn't capture our imagination.  Even the teacher's mind has wandered – and he's looking out the window, where he either witnesses or just misses witnessing a lime tree in the school yard struck by lightening.  
The poet, and the schoolteacher, leave it up to you to decide what the truth is, as well as any consequences for what's happened.  
What's your greatest blink-and-you-miss-it moment?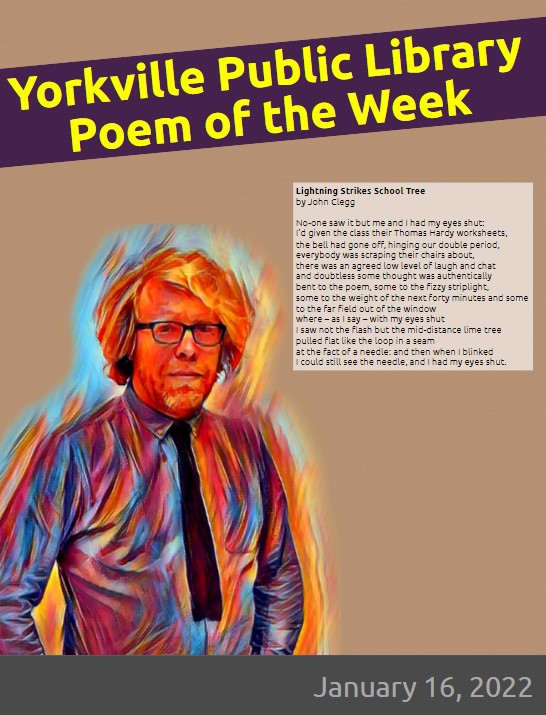 January 9, 2023 – Thomas Hardy
Thomas Hardy (1840 -1928) was an English novelist and poet.  A Victorian realist, he was influenced both in his novels and in his poetry by Romanticism, a literary style characterized by its emphasis on emotion and individualization, idealization of nature, suspicion of industrialization, and glorification of the past.   While Hardy wrote poetry throughout his life and regarded himself primarily as a poet, his first collection was not published until 1898.  Initially, he gained fame as the author of novels such Tess of the d'Urbervilles (1891) and Jude the Obscure. 
Many Romantics wrote about beauty in nature, and this poem is no different.  Some of Hardy's best writing is in the descriptions of the birds in this poem – their movements, sidling and fluttering, are beautifully captured in stanza three, played off against the stasis of "the slatestone ledge" and the distant sea with its "metal shine".
However, this poem isn't about nature or the birds.  It's about the person in the poem and the harm he has caused himself through not being alive to the moment.  It's more tragic than just missing a single moment, as Hardy supposes that missing a key, magical instant in time may be the same as missing an opportunity for epiphany, change, growth,  and missing these moments in nature are really about missing the opportunity to fulfill your own destiny. As many of us have recently made New Year's resolutions about being more mindful, what does that mean?  Maybe Hardy's poem is a great reminder of how we need to focus outwardly more often, be aware, and see the opportunities the world is presenting to us.  Then again, maybe it's just about pretty birds.
What helps you remain mindful of the moment?
January 2, 2023 – Robert Burns
Robert Burns (1759 – 1796) was a Scottish poet and lyricist. He is widely regarded as the national poet of Scotland and is celebrated worldwide. 
He is regarded as a pioneer of the Romantic movement, and after his death he became a great source of inspiration and a cultural icon in Scotland. Celebration of his life and work became almost a national charismatic cult during the 19th and 20th centuries, and his influence has long been strong on Scottish literature. In 2009 he was chosen as the greatest Scot by the Scottish public in a vote run by Scottish television channel STV.
As well as making original compositions, Burns also collected folk songs from across Scotland, often revising or adapting them. His poem (and song) "Auld Lang Syne" is often sung at Hogmanay (the last day of the year), and "Scots Wha Hae" served for a long time as an unofficial national anthem of the country.  "Auld Lang Syne" is a popular song, particularly in the English-speaking world. Traditionally, it is sung to bid farewell to the old year at the stroke of midnight on New Year's Eve. By extension, it is also often heard at funerals, graduations, and as a farewell or ending to other occasions; for instance, many branches of the Scouting movement use it to close jamborees and other functions.
The song begins by posing a rhetorical question: Is it right that old times be forgotten? The answer is generally interpreted as a call to remember long-standing friendships. Alternatively, "Should" may be understood to mean "if" (expressing the conditional mood) referring to a possible event or situation.
As we move into the new year, what's your best memory of 2022?
December 26, 2022 – Stephen Crane
Stephen Crane (1871 – 1900) was an American poet, novelist, and short story writer. Prolific throughout his short life, he wrote notable works in the Realist tradition as well as early examples American Naturalism and Impressionism.  He is recognized by modern critics as one of the most innovative writers of his generation.  Crane's first novel was the 1893 Bowery tale Maggie: A Girl of the Streets, generally considered by critics to be the first work of American literary Naturalism. He won international acclaim in 1895 for his Civil War novel The Red Badge of Courage, which he wrote without having any battle experience.
We thought this poem was kind of a perfect message heading into the new year.  Crane's untitled poem (usually just referred to by the poem's first line) is about those people in your life that just bring you down – the negative influences – the naysayers.  Going into the New Year, we hope you have the mindset of the poem's other character, who doesn't let other people's lack of belief hold them back.
So, whatever your dream for the New Year – write that novel that's been in your head, get into a good exercise routine, work out a personal budget and get your finances in order, pursue that dream job/career… go for it.   Pursue the horizon you've been gazing out at, and if anyone or anything stands in your way, run on.  Live that dream in the new year.
Maybe we have some books or programs that will help you get started, so join us at the library in 2023 and let us help you pursue that horizon!
What is the horizon you're pursuing?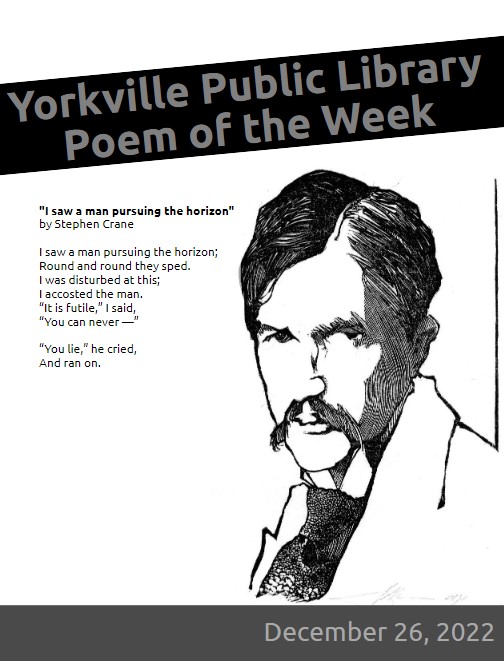 December 17, 2022 – Henry Wadsworth Longfellow
Henry Wadsworth Longfellow (1807 – 1882) was an American poet and educator.  He  was one of the fireside poets from New England, born in Portland, Maine. He graduated from Bowdoin College and became a professor there and at Harvard. His first major poetry collections were Voices of the Night (1839) and Ballads and Other Poems (1841). He retired from teaching in 1854 to focus on his writing, and lived the remainder of his life in the Revolutionary War headquarters of George Washington.
Longfellow wrote many lyric poems known for their musicality and often presenting stories of mythology and legend.  He was the most popular poet of his day, widely read both in the US and Europe. His first wife, Mary, died in 1835 after a miscarriage.  Two years before he wrote the poem "Christmas Bells," his life was shaken by tragedy again. His second wife, Fanny, lost her life when her dress caught fire and she died from severe burns the following day. Longfellow was devastated and as he grieved the death of his wife the Civil War raged around him.
Soon after, he learned that his son Charles had joined the Union Army without his blessing.   A few months later, Longfellow received a telegram that his son had been severely wounded during the Battle of New Hope Church.  Charles was fighting for his life after a bullet entered his left shoulder and damaged his spine.  Still mourning for his wife, and uncertain of his son's recovery, Longfellow sat down at his desk on Christmas morning, 1863, and penned the poem "Christmas Bells." Seven years later his poem would be set to music and become the Christmas carol we know today. The first and last few verses of the song refer directly to the national tragedy of the Civil War. 
What is your favorite holiday song?
December 12, 2022 – Kathleen Jamie
Kathleen Jamie (1962 – –) is a Scottish poet and essayist.  In 2021 she became Scotland's fourth Makar, also known as the National Poet of Scotland.  Raised in Currie, near Edinburgh, she studied philosophy at the University of Edinburgh, publishing her first poems as an undergraduate. Her writing is rooted in Scottish landscape and culture, and ranges through travel, women's issues, archaeology and visual art. She writes in English and occasionally in Scots.
Jamie's collections include The Queen of Sheba (1995). Her 2004 collection The Tree House revealed an increasing interest in the natural world. This book won the Forward Poetry Prize and the Scottish Book of the Year Award.  The Overhaul was published in September 2012, winning the 2012 Costa poetry award.  Her collections of essays Findings and Sightlines are considered influential works of nature and landscape writing.
In 2014, Jamie set herself the task of writing one poem per week. The resulting poems were collected in The Bonniest Companie, released in 2015, winning 2016 Saltire Society book of the year award.
This poem, "The Dipper" paints a picture of freedom and concealed connectivity in the natural world.  In the poem, the speaker – maybe the poet herself – walks through the winter woods, looking for a muse.  A songbird, unable to sing, like this poet is unable to find words, opens the door to unseen/unheard treasures if you're looking closely enough. 
What's the best place in our area to take a winter walk?
December 5, 2022 – Emily Brontë
Emily Brontë (1818 – 1848) was an English novelist and poet who is best known for her only novel, Wuthering Heights, now considered a classic of English literature.  She also published a book of poetry with her sisters Charlotte and Anne, titled Poems by Currer, Ellis and Acton Bell with her own poems finding regard as poetic genius.  Emily was the second-youngest of the four surviving  Brontë siblings, between the youngest Anne and her brother Branwell.  Because it was difficult for female writers to be taken seriously, she published under the male pen name Ellis Bell.
While three Brontë siblings have had lasting fame for their writing, their lives were terribly sad and filled with tragedy.  Their mother passed away when Emily was only three, then five years later her two oldest sisters, Maria (11) and Elizabeth (10), died of typhoid.  Their aunt, who helped raise them, also died very young, and Branwell suffered throughout his short live with drug and alcohol addition.  
This poem, "Spellbound" can be read in many ways, but several literary critics believe it is about the lack of control that Emily (and her surviving family) must have felt watching everyone they loved die so young.  Emily herself only lived to age 30 (Anne died at 29 shortly after, while Charlotte lived to 38).  
The part of this poem that strikes me so much is the slight change in the poem's 4th, 8th, and 12th lines.   
What do you think is the best piece of literature about control?
November 28, 2022 – John Donne
John Donne (1572-1631) was an English poet, scholar, soldier, and secretary born into a recusant family, who later became a cleric in the Church of England. Under royal patronage, he was made Dean of St Paul's Cathedral in London. He is considered the preeminent representative of the metaphysical poets. His poetical works are noted for their metaphorical and sensual style.
Donne's style is characterized by abrupt openings and various paradoxes, ironies and dislocations. These features, along with his frequent dramatic or everyday speech rhythms, were reactions against conventional Elizabethan poetry.  His early career was marked by poetry that bore immense knowledge of English society. Another important theme in Donne's poetry is the idea of true religion, something that he spent much time considering and about which he often theorized.  
Despite his great education and poetic talents, Donne lived in poverty for several years, relying heavily on wealthy friends. "No Man is and Island" is a reminder that fits very well into the holiday season – in the poem, Donne argues that every human being is connected to every other human being by comparing humanity itself to a vast landmass. No one is "an island" in the sense that no one is separate from this metaphorical "continent"; just by being human, everyone is part of humanity.  It fits in nicely with the African concept of Ubuntu – "I am human because you are human" and all of our experiences (good and bad) impact one another in some way. 
Who do you rely on most during the holiday season
November 21, 2022: Shel Silverstein
Shel Silverstein (1930 – 1999) was an American writer, poet, cartoonist, songwriter, and playwright. Born and raised in Chicago, Silverstein is best known for his children's books, but he didn't limit his audience to kids.  Much of his early work, in the mid 1950s, is made up of cartoons published in newspapers and magazines around the country, notably the adult-oriented Playboy. He also wrote a satirical, adult-oriented alphabet book, Uncle Shelby's ABZ Book, under the pseudonym "Uncle Shelby."
As a children's author, his most beloved work includes The Giving Tree, Where the Sidewalk Ends, and A Light in the Attic. His poetry has been translated into more than 47 languages and has sold more than 20 million copies.  Silverstein wrote many hit songs as well, including the 1969 Johnny Cash track "A Boy Named Sue."  A true Renaissance Man, Silverstein was not only a best selling author, he was won two Grammy Awards as well as nominations at the Golden Globe Awards and Academy Awards.
Silverstein's children's poetry for children is often silly, funny, and a little weird  He illustrated his own work with an incredibly recognizable black-and-white  style of illustrations that are both amusing and morbid, but are often a vital piece of the poems, often necessary in order to understand the poem itself.   Some believe it is simply amusing and fun; others contend that the silliness hides deeper symbolism, which may be the biggest attribute to Silverstein's work and allows it to be enjoyed by people of all ages, and seen by many in new ways when they read it at different times of their life.  
What is your all-time favorite Shel Silverstein piece?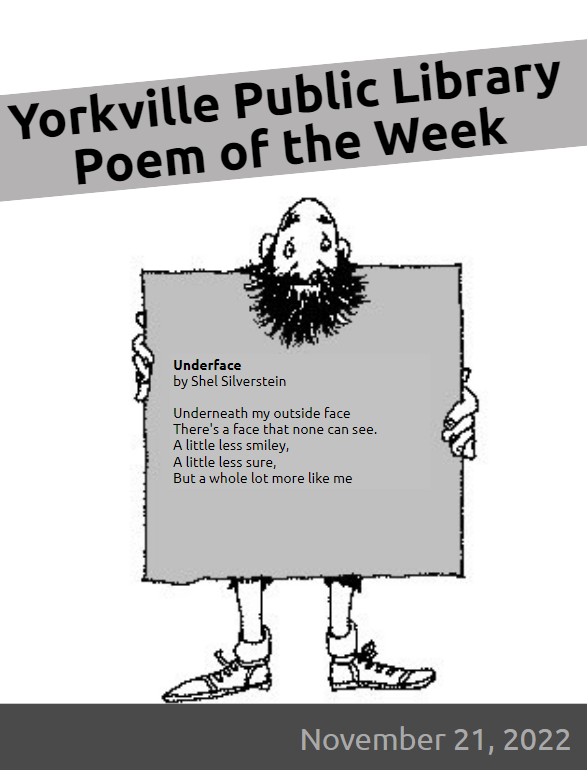 November 14, 2022: Carol Ann Duffy
Carol Ann Duffy (1955 – –) is a Scottish poet and playwright. She is a professor of contemporary poetry at Manchester Metropolitan University, and was appointed Poet Laureate in May 2009, resigning in 2019. She was the first female poet, the first Scottish-born poet, and the first openly gay poet to hold the Poet Laureate position.
In this poem, "Text," things seem pretty straight forward, and they mostly are.  The poem (which is just another form of text) is about how the poet/texter has been unable to get her message across to the textee.  Several moments in the poem are intentionally left ambiguous – for example, is the injured bird the phone itself, an object that we all tend to take extra special care of – or is it the woman and her state of emotion?  
Each of the seven couplets of 'Text' ends on a rhyme – or false rhyme – of bird, words, third, absurd, chord, blurred, heard. This lends the poem a sense of repetition, like someone constantly checking for new texts. The one rhyme that misses is 'broken chord', which in a super meta moment is the broken chord of the poem. 
That last couplet is another fun play on words.  Text messages aren't meant to be heard – but we don't know for sure if the texter/poet is saying that the words aren't heard as in they aren't aloud, or if there is a deeper meaning in that they won't be understood at all.  All in all, Duffy has fun with words and the evolution of language and communication that comes with "advances" in technology.
What is the best piece of literature you've ever read about the dangers of technology?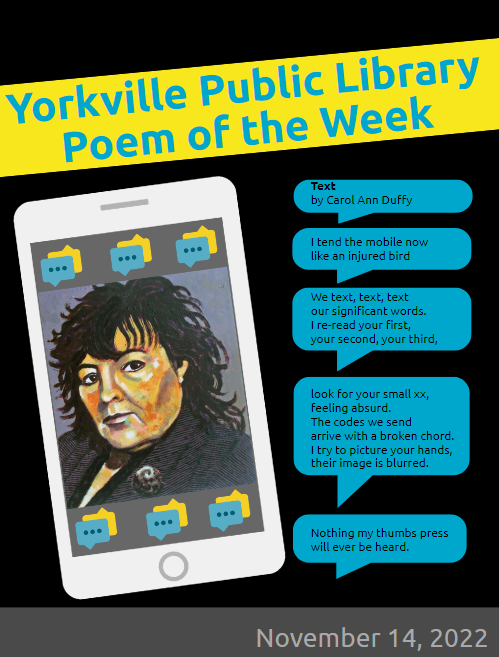 November 7, 2022: Robert Gibb
Robert Gibb (1946 – –) is an American poet.  Gibb won the 1997 National Poetry Series Open Competition for The Origins of Evening. It, along with his next two books, comprise what Gibb calls The Homestead Trilogy, a nearly 100-poem cycle probing the fading industrial history and culture of America's Steel City.
He was born to a family of steelworkers in Homestead, Pennsylvania, a mill town six miles south of downtown Pittsburgh along the Monongahela River. The town was home to Andrew Carnegie's famous Homestead Steel Works and site of the infamous Homestead Strike.  
A lot of Gibb's poetry is about deeper looks at nature, maybe things we glance past if we don't take a moment and try to focus on the little things.  "For the Chipmunk in My Yard" is a deeper look at the life of a chipmunk in Gibb's yard – that's pretty straight forward – but we rarely focus on where a chipmunk, squirrel, rabbit, bird, coyote… is before we notice it in the yard, where it's going, what the rest of its day, night, life is like beyond those moments that it's right there in front of us.  Gibb invites us to think about the world in that wider perspective – we know our neighbor when we wave and smile out by the mailbox, but maybe we don't know what goes on with the rest of their day.  We come across cashiers and waiters and fellow drivers on the road, but we typically only think about them in the context of when their lives intersect ours.  Gibb offers us a chance to consider more.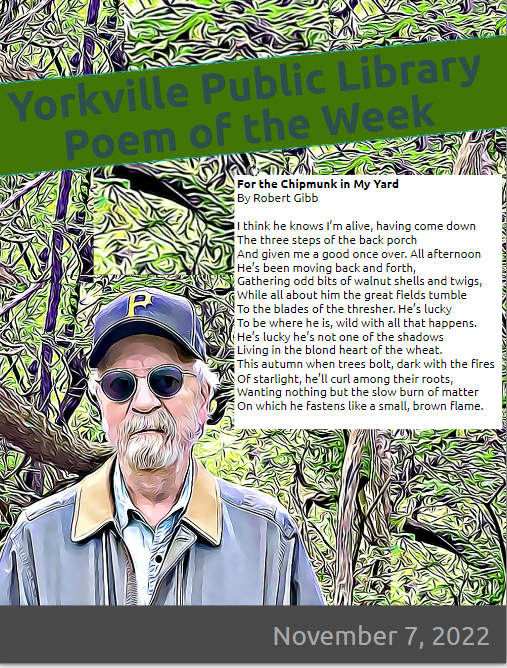 What is the best nature book (or poem) you've ever read?
October 31, 2022: Margaret Atwood
Margaret Atwood (1939 – –) is a Canadian poet, novelist, literary critic, essayist, teacher, environmental activist, and inventor.  Since 1961, she has published 18 books of poetry, 18 novels, 11 books of non-fiction, nine collections of short fiction, eight children's books, and two graphic novels, and a number of small press editions of both poetry and fiction. Atwood has won numerous awards and honors for her writing, including two Booker Prizes, the National Book Critics, and PEN Center USA Lifetime Achievement Awards.  A number of her works have been adapted for film and television.
Atwood's works encompass a variety of themes including gender and identity, religion and myth, the power of language, and "power politics".  
This poem, "Hesitations Outside the Door",  is a simple yet powerful poem that conveys many themes that Atwood is fond of writing about. In this narrative piece, the speaker depicts her life through the image of an imaginary door. On her side, is her life of domesticity and on the other, presumably, is one of greater freedom. In the short lines of this poem, the speaker describes her inability to open a door with the right "key" or "lie". She continues to lie, but they are the "wrong lies". This suggests that she is lying to herself in a way that is not benefiting her place in the world she's been unable to open the door and knows that something needs to change in order for her to do so. She's longing to escape from "the kitchen."
What is the best piece of literature about someone who feels trapped?
October 24, 2022: Wendell Berry
Wendell  Berry (1934 – –) is an American novelist, poet, essayist,  environmental activist, cultural critic, and farmer.  He is an elected member of the Fellowship of Southern Writers, a recipient of The National Humanities Medal, and a 2013 Fellow of The American Academy of Arts and Sciences.  On January 28, 2015, he became the first living writer to be inducted into the Kentucky Writers Hall of Fame.
Berry's lyric poetry often appears as a contemporary eclogue, pastoral, or elegy; but he also composes dramatic and historical narratives.   Fellow poet and literary professor, Lionel Basney placed Berry's poetry within a tradition of didactic poetry that stretches back to Horace: "To say that Berry's poetry can be didactic, then, means that it envisions a specific wisdom, and also the traditional sense of art and culture that gives art the task of teaching this wisdom. For Berry, poetry exists at the center of a complex reminding. Both the poet and the reader are reminded of the poem's crafted language, of the poem's formal literary antecedents, of "what is remembered or ought to be remembered," and of "the formal integrity of other works, creatures and structures of the world."
This poem, "The Peace of Wild Things" is a reminder that there is a healing power to nature – to getting out into the woods, up into the mountains, or alongside a meandering stream that will help reset your mind, heart, and spirit in magical ways.
Where is the place that you go to get away from it all and hit the reset button when life gets too life-y?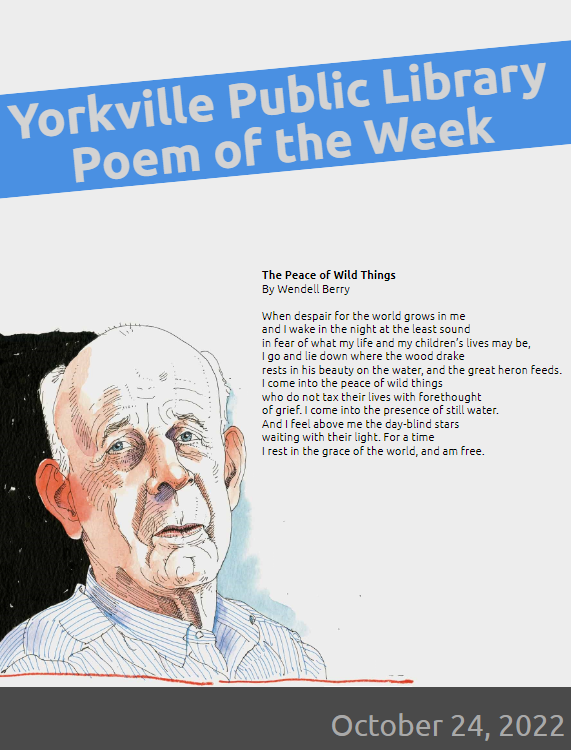 October 17, 2022: Billy Collins
Billy Collins (1941 – –) is an American poet, appointed as Poet Laureate of the United States from 2001-2003.  He is a Distinguished Professor at Lehman College of the City University of New York (retired, 2016). Collins was recognized as a Literary Lion of the New York Public Library (1992) and selected as the New York State Poet for 2004 through 2006. 
Collins was born in Manhattan and grew up in Queens and White Plains. His father. a Wall Street worker who Collins credits as in inspiration for his sense of humor, was from Ireland and his mother came from Canada.  Mrs. Collins had the ability to recite verses on almost any subject, which she often did, and cultivated in her young son the love of words, both written and spoken. 
Collins is known for a distinct style that's simple and unpretentious, usually free verse, with no rhyme scheme, rhythm, or  format. He's best known for writing about  small things, amplifying as if they are very important, sometimes in a humorous way.
This poem, "Introduction to Poetry" is a humorous look at poetry itself, and how we sometimes we look for too hard for deeper meaning in a piece of literature – oftentimes missing the true point.
What piece of literature have you read that got better one the over-analyzing stopped and you really got to enjoy it?
October 10, 2022: Natasha Threthewey
Natasha Trethewey (1966 – –) is an American poet who was born in Mississippi, but shortly after her birth, the family moved to Ohio, because her parents' marriage was considered illegal in their home state.  Her father, Canadian poet Eric Trethewey, and her mother, a social worker, divorced when she was very young, but much of Trehewey's poetry comes from her culture and personal experiences – racial inequities, injustices, and personal pain have driven her writing. When Trethewey was 19, her mother was murdered by her second husband, and it was this moment in her life that Trethewey began to feel poetry might be able to help here make sense of what had happened.  '
Structurally, her work combines free verse with more structured, traditional forms such as the sonnet and the villanelle. Thematically, her work examines "memory and the racial legacy of America".  Trethewey's first published collection, Domestic Work (2000), was the inaugural recipient of the Cave Canem prize for a first book by an African American poet.
This poem, "Housekeeping" takes place in Trethewey's childhood home, while her father was away serving in the Canadian Navy.  It's about the comfort and peace we find in small things in our lives – and how they help us connect to the people (or things) that are missing in our lives or to the places we just don't want to forget.
What seemingly small and insignificant thing holds a great deal of meaning to you?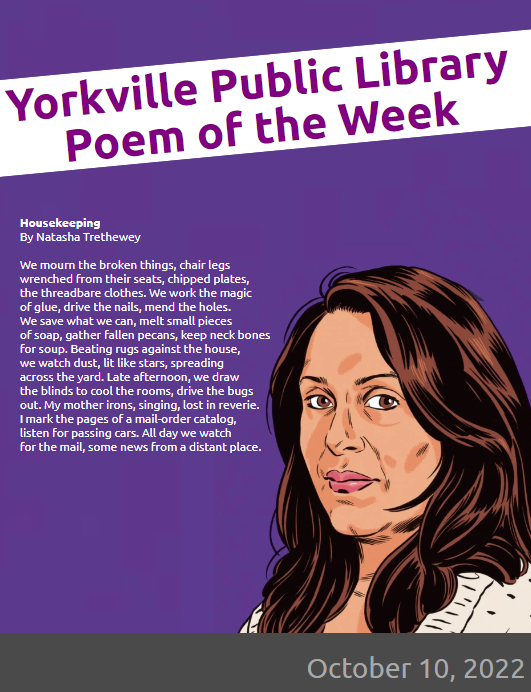 October 3, 2022: Joy Harjo – Invisible Fish
Joy Harjo (1951 – –) is an American poet, musician, playwright, and author. She served as the 23rd United States Poet Laureate, the first Native American to hold that honor. She was also only the second Poet Laureate Consultant in Poetry to have served three terms. Harjo is a member of the Muscogee Nation (Este Mvskokvlke) and belongs to Oce Vpofv (Hickory Ground).  She is an important figure in the second wave of the literary Native American Renaissance of the late 20th century. 
"Invisible Fish" is one of those poems that has readers torn as to how to interpret it.  While there are probably a gazillion meanings you could apply to writing like this, most literary people analyze it in one of two ways.
First, this poem can be interpreted as an attempt from the author to give us a different perspective about the way modern society lives.  "Invisible Fish" seems to claim that humans no longer dream about bigger, better things for humanity as a whole – and that does seem like a very negative view to take.  Some scholars, though, read the poem as a sort of reverse psychology call to arms… maybe getting readers to say to themselves (or to the narrator), "hey, what do you mean we don't dream about bigger and better???  Hold my beer… I'm about to do something great."
Then again, maybe she is being negative.  Maybe she does believe mankind's greatest accomplishments are in our past.  What do you think she's saying?
Has a piece of literature ever inspired you to do something awesome?
September 26, 2022: Garrett Hongo – The Legend
Garrett Hongo (1951- –) is an American poet and academic born in Hawaii.  His work often draws upon his Japanese ancestry, Japanese-American history, and his own experiences as an Asian American.  He was a finalist for the Pulitzer Prize in Poetry in 1980.
"The Legend" is a narrative poem inspired by a news program Hongo watched, bewildered and disgusted that the victim of the callous shooting was so casually dismissed, as if, because he was Asian, he was less than human and his life/death mattered less.  The poem features many of the themes most important to Hongo – troubles that immigrants in America face, questioning one's own ethnic identity, the division between Asian and Western cultures – as well as alienation and violence in America's cities.
Throughout the poem, Hongo tries to give character and humanity to the man, providing details about who he was and what he was doing – making an effort to make the poem about the man – whereas the news story was about the criminal.  Interestingly, Hongo never names the man – nor does he know his exact ethnicity – but he knows artists and philosophers and the names of specific makes of cars… Anonymity, alienation, and identity are important themes in the poem, and are key concepts Hongo wants you to keep considering long after you've read.  
September 19, 2022: Langston Hughes – So Tired Blues
Langston Hughes (1901 – 1967) was an American poet, social activist, novelist, playwright, and columnist from Joplin, Missouri. One of the earliest innovators of the literary art form called jazz poetry, Hughes is best known as a leader of the Harlem Renaissance. 
Growing up in a series of Midwestern towns, Hughes became a prolific writer at an early age. He moved to New York City as a young man, where he made his career.   Although he dropped out of Columbia University, he gained notice from New York publishers, first magazines and then book publishers, and became known in the creative community in Harlem.
When we look back at Hughes' work, we can't help but notice that many of his poems were written in a free-form style – loose, light, almost like improvisational jazz music.  The poets and writers of Harlem and the jazz musicians of that time and place are almost interchangeable, with the two art forms sharing voice and style in so many ways.
In this poem, "So Tired Blues," Hughes also seems to borrow from blues music's rhythm and style – if you read it at just the right pace, you can almost picture an old blues guitarist up on stage, sunglasses on, their hat pulled low – singing these lyrics with a cool blues guitar riff playing between the lines.  Like blues, I feel like a lot of us can relate to Hughes words – just wanting the day to speed up sometimes, so we can hurry up and get to the part where we get to put our feet up and relax.  
Since we can't stop singing "So Tired Blues" like we're in Buddy Guy's club in Chicago, it leads us to the question: What other pieces of literature do you think connect really well with music?
September 12, 2022: Ogden Nash – A Word to Husbands
Ogden Nash (1902 – 1971) was an American poet well known for his light verse, of which he wrote over 500 pieces. With his unconventional rhyming schemes, he was declared by The New York Times the country's best-known producer of humorous poetry.  Nash was best known for surprising, pun-like rhymes, sometimes with words deliberately misspelled for comic effect, as in his retort to Dorothy Parker's humorous dictum, Men seldom make passes / At girls who wear glasses:
          A girl who's bespectacled
          May not get her nectacled
In this example, the word "nectacled" sounds like the phrase "neck tickled" when rhymed with the previous line.
Sometimes the words rhyme by mispronunciation rather than misspelling, as in:
         Farewell, farewell, you old rhinoceros,
         I'll stare at something less prepoceros
The poem "A Word to Husbands" is a fun example of Nash's work, and may just be great advice sometimes. It makes us ask the question: What's the best piece of advice you've ever gotten from a piece of literature?